Parma ham ravioli recipe
Summary: Ravioli with Parma ham, the ham will deliciously flavor this homemade pasta, the Gorgonzola sauce will complete this beautiful recipe for Italian ravioli. Always a great time at home, on the other hand no helping hand to make these ravioli, I had chosen this recipe to please Camille, a friend of my daughter's, who came to sleep at home. The Parma ham ravioli have a lot of character, beware children may find this sauce a little strong, in any case the older ones loved it. The homemade ravioli, I admit it is a bit long, but when you taste them it is only happiness and there we forget the time spent making these ravioli with Parma ham.
Ravioli recipe with Parma ham for 100 ravioli:
Ingredients
8 eggs
800 gr of flour
1 tablespoon of olive oil
10 gr of fine salt
12 slices of Parma ham
300 gr of ricotta
130 gr of Pécorino
2 egg yolks

Instructions

:
Instructions
Grate the Pecorino
Skin the Parma ham, then mix.
Add the ricotta, pecorino and egg yolks.
Grate the nutmeg, then add it
Mix the flour with the eggs, olive oil and salt.
Film and let stand 30 minutes.
Roll the fresh dough to obtain an elastic and fine dough.
Cut strips of the same width.
Generously flour the work surface.
Place a dab of stuffing every 6 cm.
Moisten around the stuffing.
Place another strip on the ravioli and glue the ravioli.
Cut the ravioli with a knife or a cutter.
Flour the ravioli and let dry for at least 1 hour.
Cook the ravioli in a large volume of salted water which simmers slightly for 3 minutes
Preparation time: 4 hour (s)
Cooking time: 3 minutes
Number of people: 100 ravioli
4 star rating: 1reviews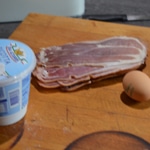 Ingredients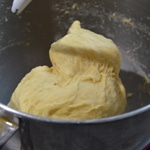 Prepare the dough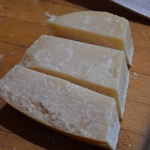 Grate the Parmesan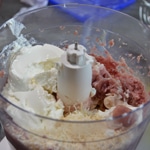 Mix the preparation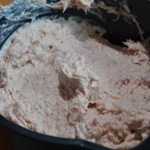 Let cool well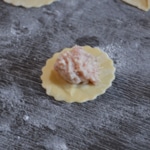 Place a hazelnut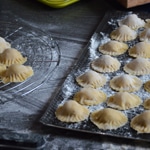 Lightly flour
Zoom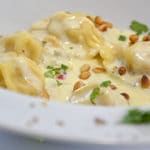 What wine to drink with: Ravioli with Parma ham
My favorite wine for this recipe: Croze Hermitage red Cépage Syrah
Temperature between 15 ° and 16 °
Partnership
A thought to all those connected from abroad in love with French cuisine and these wines, here is a great opportunity for you to buy a quality wine, to accompany my recipe for Ravioli with Parma ham. I selected this red Crozes Hermitage wine from the organic cultivation of the Frédéric Pierro house in Saint Bardoux in the Drôme after tasting it , I loved it. from the Syrah grape variety cultivated and vinified with respect for its terroir, which gives a generous wine with aromas of black fruit with a hint of pepper and a well-balanced structure.
  Maison Pierro offers 1830 bottles for this 2015 vintage.
Maison Frédéric Pierro in Saint Bardoux 26260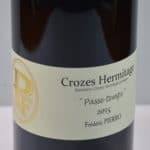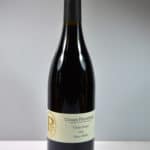 </p