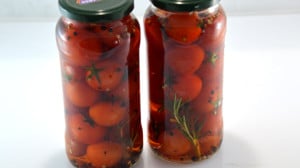 Recipe: Cherry tomato and rosemary
Recipe for Cherry tomatoes and rosemary, at home it is not easy to be able to keep cherry tomatoes to pickle them, they are almost devoured on the foot. So this year I bought half of it and no one had any complaints, for once. I admit that I am the first to use it, but it seems that it is very good for the health. This time I haven't pierced them, I hope I won't regret it, but I'll tell you that in a month. Cherry tomatoes with rosemary to accompany beautiful homemade pork rillettes. I am going to make some more garlic and then I think I will have finished the condiments for this year. But the cherry tomatoes and rosemary are my favorites.
Recipe ingredients
Cherry and rosemary tomatoes recipe for 2 jars of 0.75 liter:
800 gr of cherry tomatoes
50 cl of honey vinegar
10 cl of Riesling
2 tablespoons of powdered sugar
2 sprigs of fresh rosemary
1 tablespoon of peppercorns
½ teaspoon of fleur de sel.
Instructions
Scald then dry the jar.
Heat the vinegar and peppercorns in a saucepan.
Simmer for 5 minutes.
Set aside on a window sill, so that the liquid cools.
Rinse then dry the fresh rosemary with a paper towel.
Rinse and then dry the cherry tomatoes.
Put them in the jars
Install the rosemary stems so that they are the full height of the jar.
Pour the cooled vinegar over the tomatoes.
Add pepper and salt.
Close the jars.
Reserve under cover for 3 to 4 weeks.
Preparation time: 15 minutes
Cooking time: 0 minutes
Number of 75 cl jars: 2
4 star rating: 1 review
What wine to drink with: Cherry tomatoes and rosemary
The choice is yours with the choice of terrine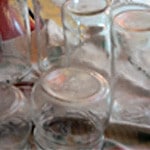 Scald the jars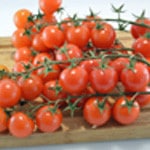 Rinse the tomatoes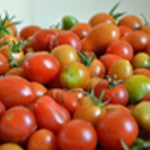 Dry the tomatoes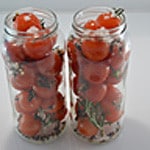 Store in jars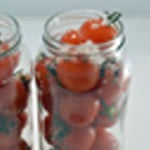 Zoom