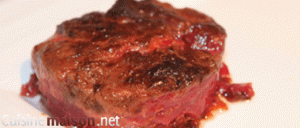 Recipe: Red beet gratin
Baked raw beetroot recipe with Comté cheese. Potato and beetroot vegetable gratin cooked in cream, a real killer, once in the oven this gratin looks like a beetroot clafoutis. Here is a recipe to accompany meat or fish with a gratin with beetroot, a dish that will not leave anyone indifferent.
Recipe ingredients
Recipe Red beetroot gratin for 8 people
500 g of peeled raw beets
500 g peeled potatoes
1 liter of liquid cream
250 g of grated Comté
Salt and pepper
Instructions
Cut the beets and potatoes with a mandolin;
Cook the beets in the salt and pepper cream for about 1 hour. Put the potatoes with the beets and cook for another hour so that the potatoes and beets are almost cooked.
Put in a baking dish a layer of beets and potatoes, a layer of Comté and repeat until all your vegetables are used up. Bake at 180 ° for about 2 to 3 hours, let cool and give the desired shapes.
Preparation time: 20 minutes
Cooking time: 4 hour (s)
Number of people: 8
4 star rating: 1 review
What wine to drink with: Beetroot gratin
My favorite wine for this Madiran recipe, Grape variety: Tannat
Temperature between 16 ° and 17 °