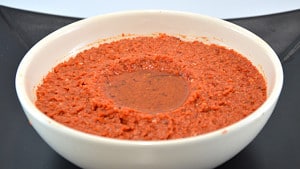 Recipe: Red hummus
Red hummus recipe, another way to start a meal, everyone prepares their sandwiches by covering according to their desires. I also like this kind of aperitif, the best is to toast the bread which brings out the taste of red hummus. The taste of Tahini is more absent with this red hummus, the tomatoes tend to win the taste, the dosage of the tomatoes will be crucial. To make this red hummus, you will first have to make a Tahini, then mix it with your chickpea puree. It was Corinne who introduced me to the first red hummus, I immediately hooked and loved it. I like everything that revolves around chickpeas and I also really like Lebanese cuisine.
Recipe ingredients
Red hummus recipe for 15 people:
300 g chickpeas
120 gr of Tahini
1 tablespoon ground cumin
1 teaspoon of ginger
½ teaspoon white pepper
1 teaspoon of fine salt
5-10 tablespoons olive oil
1 jar of sun-dried tomatoes in oil
5 gr harissa
Instructions
Drain the chickpeas.
Grind the chickpeas with a drizzle of olive oil.
Add the Tahini and mix again.
Add the tomatoes with the oil and grind.
Add the garlic and lemon and mix again.
Add the harissa.
Take care so that all the ingredients are well incorporated.
Add olive oil if necessary, the hummus should remain very relaxed and not dry.
Preparation time: 35 minutes
Cooking time: 0 minutes
Number of people: 15
4 star rating: 1reviews
What wine to drink with: Red Hummus
My favorite wine for this recipe: Bandol rouge Cépage Cinsault; Mourvèdre; Grenache noir
Temperature between 15 ° and 17 °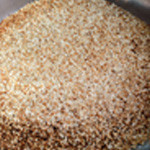 Toast the sesame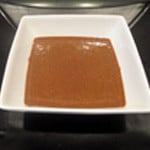 Mix with oil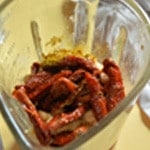 Mix with the sundried tomatoes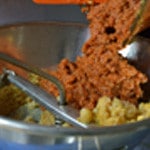 Add the chickpeas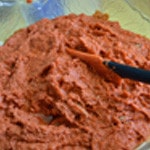 Red hummus ready