Recipe: Red mullet with fennel
Recipe of red mullet with fennel, a recipe from Provence, a recipe from the sun, I love the scent of candied fennel. This morning the Leclerc had beautiful small fresh red mullet, with us it is rather rare, we find them rather in net, I was tempted at first glance. Lightly grilled in oil with candied fennel, a real treat for the palet, the fish was deliciously tasty and slightly flavored with fennel and tomatoes.
Recipe ingredients
Red mullet with fennel recipe for 2 people:
4 small whole mullet
5 small fennel bulbs
1 clove of garlic
1 teaspoon of fine salt
20 basil leaves
6 petals of sun-dried tomatoes
50 gr of butter
1 tablespoon of olive oil
Instructions
Remove the leafy stems from the fennel.
Thinly slice the bulbs into strips.
Bring a large volume of salted water to a boil covering the fennel strips.
Leave to simmer for 20 minutes.
Filter the fennel slices.
Wipe them with food paper.
Heat the olive oil in a pan.
Place the slices of fennel and let them gently candy for 15 minutes.
Spread the fennels on the outside of the pan.
Place the butter in the center of the pan, then the sundried tomatoes and basil.
Sear the red mullet directly in the butter and oil over low heat.
Salt and pepper.
Gently turn the red mullet then sear them.
Preparation time: 10 minutes
Cooking time: 20 minutes
Number of people: 2
4 star rating: 1 review
What wine to drink with: Red mullet with fennel
My favorite wine for this recipe: Cheverny blanc Cépage Chardonnay, Sauvignon blanc
Temperature between 06 ° and 08 °
I don't know what happened with the photos, but they weren't great.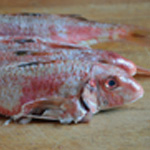 Rinse the red mullet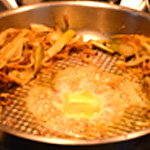 Start with the fennel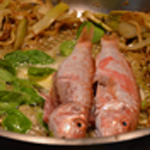 Then the red mullet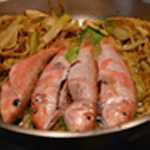 Gently turn them over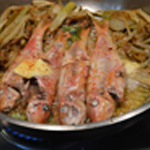 Ready