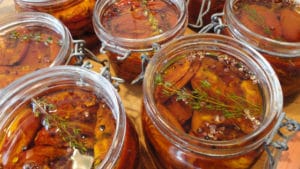 Sun-dried tomato recipe
Summary: Homemade dried tomato, I kept them in olive oil. The dried tomato will melt slowly in the oven, you will still need a few hours. But after what pleasure to cook your sundried tomatoes, you will have tomatoes all year round. Well I admit it was a bit long, but they had an extraordinary flavor and deliciously fragrant. Good on the other hand I will certainly not do it again, time is running out with this site.
Sun-dried tomato recipe for: 1 jar 3/4
Ingredients :
1,500 kg of Roma tomatoes
2 teaspoons of thyme
½ teaspoon of fleur de sel
¼ teaspoon of pepper
1 teaspoon of Séchouan pepper
1 sprig of thyme
Instructions
Choose firm, ripe tomatoes.
Clean the tomatoes and dry them with paper towels.
Cut them in four lengthwise, with a toothless spoon removed the pulp.
Place a sheet of baking paper on a baking sheet.
Place the tomato quarters side by side, season with salt and pepper, sprinkle with thyme and sprinkle with olive oil.
Bake in a lukewarm 95 ° oven for 4 hours, regularly open your oven in order to evacuate the humidity.
Scald your jar, store your dried tomatoes in the jar by packing them a little.
Cover with olive oil, add the Séchouan pepper and the sprig of thyme, stored in the dark.
Preparation time: 30 minutes
Cooking time: 4 hour (s)
Number of people: 1 jar 3/4
4 star rating: 1 review
What wine to drink with: Sun-dried tomato
You will choose the wine according to the main course.