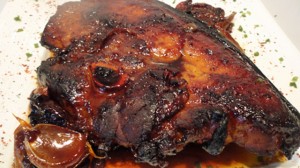 Recipe: Roast Pork
Roast pork recipe, I like the marriage of honey which caramelizes the meat and the cider which deglazes it. The pork round in the oven, a way of cooking that deserves very little attention and allows you to do something else. Two solutions suitable for cooking the round pork, in the cast iron casserole dish (the round remains tender and soft), in the oven (the round caramelized dries a little but is often enhanced by the cooking juices). I like both versions. Pork roll for this recipe I braised it in vinegar I accompanied it with a potato and carrot gratin that you will find online soon.
Recipe ingredients
Roast pork recipe for 6 people:
1, 300 kg of round pork
3 shallots
3 cloves of garlic
15 cl of cider vinegar
1 tablespoon of olive oil
3 tablespoons of honey
1 beef cube
2 tablespoons of olive oil
1 sprig of rosemary
Instructions
Peel the shallots, without slicing them.
Peel the garlic cloves, without slicing them.
Heat the oil in a baking dish.
Sear the round for 3 to 5 minutes on each side.
Lower the heat, then season with salt and pepper.
Drizzle with honey.
Coat the round dish well with the honey and let lightly caramelize.
Deglaze with the cider vinegar.
Add the cube and let it boil for 5 to 6 minutes.
Add the shallots and garlic.
Arrange the tomato petals.
Cover with a sheet of baking paper.
Place in a hot oven for 75 minutes.
Gently flip the round and cook for another 75 minutes.
Preparation time: 40 minutes
Cooking time: 1 hour 50 minutes
Number of people: 6
4 star rating: 1 review
What wine to drink with: Roast pork
My favorite wine for this recipe: Saumur Champigny red Grape variety Cabernet franc and Sauvignon
Temperature between 15 ° and 17 °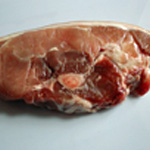 Take out the meat 1 hour before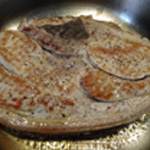 Grill the roti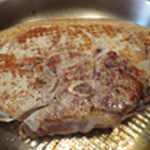 Do not burn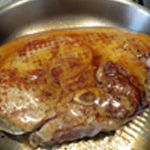 Grill on the other side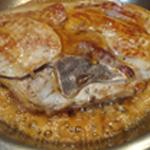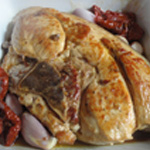 Turn over then put in the oven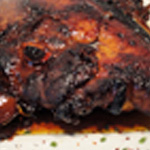 Zoom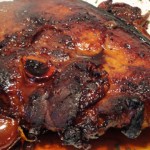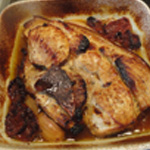 Cook in the oven