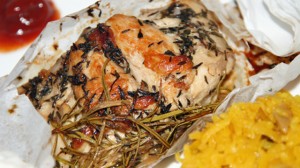 Recipe: Saddle of rabbit papillote with pastis
Saddle of rabbit recipe with pastis, a rather original way to eat rabbit. Rabbit, rabbit in white wine decorated with pastis recipe from the south of France, I like this cooking in foil, the rabbit will perfume itself wonderfully in its aluminum envelope. A papillote of saddle of rabbit flavored with rosemary.
Recipe ingredients
Recipe Papillote of rabbit saddle with pastis for 4 people
8 saddles of rabbit
1 glass of white wine
2 tablespoons of thyme
1 tablespoon of pastis
Instructions
Degrease the saddles, reserving the fat.
Remove the fat from the kidneys.
Brown the rabbit fat in a hot pan.
Grill the saddles, let them take a nice color.
Turn them over as soon as they have colored, add the dry thyme, salt and pepper.
Reserve the saddles, once grilled warm.
Add the glass of white wine to deglaze your pan and add the pastis let reduce.
Stop cooking as soon as the juice has reduced.
Assemble your papillotes starting with the saddle then the rosemary stick, the kidney, salt and pepper.
Add 2 tablespoons of fluid cream and 2 teaspoons of juice.
Close your papillotes and bake in a hot 180 ° oven for 45 minutes.
Preparation time: 15 minutes
Cooking time: 45 minutes
Number of people: 4
4 star rating: 1 review
What wine to drink with Papillote of rabbit saddle in pastis
My favorite wine for this Cotes du jura blanc recipe
Temperature between 11 ° and 12 °