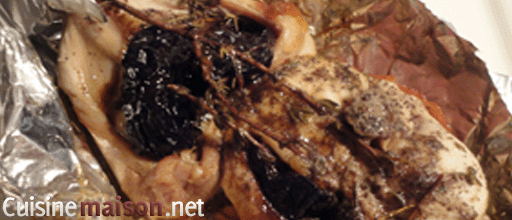 Rabbit saddle recipe with prunes
Summary : In our region we still have plenty of small owners who offer us rabbits, amateur breeder, their rabbits are always of good quality, very big, with this kind of animal it is easy to reserve the Saddle of rabbit. Saddle of rabbit in the oven, I like this cooking and the softness provided by the prunes. For cooking saddle rabbit for half an hour in the oven, but you can also cook it on a barbecue for everyone's pleasure. Saddle of rabbit with prunes, a light recipe, we really like this white meat.
Recipe Saddle of rabbit with prunes for 4 people
Ingredients :
500g saddle of rabbit
100 g bacon
10 dried prunes
10 sprigs of rosemary
5 tablespoons of white wine
4 teaspoons of olive oil
Salt and pepper
40g butter
Instructions
Have the butcher cut the saddles.
Cut 4 squares of aluminum foil, butter the center of your sheet.
Place a sprig of rosemary on the saddle.
Place two prunes on the rosemary, then close with the flesh.
Place a slice of bacon on the foil, then the saddles mounted with the prunes.
A piece of butter, salt and pepper.
Finish with a slice of bacon, form the papillotes and just before closing, pour the white wine and close the papillote.
Place in a hot 220 ° oven for 25 minutes.
Preparation time: 10 minutes
Cooking time: 25 minutes
Number of people: 4
4 star rating: 1 review
The rabbit always a pleasure to taste it as to cook it, here it cooks with dried prunes and rosemary; flavored to perfection, not overcooked, a pleasure.
What wine to drink with: Saddle of rabbit with prunes
My favorite wine for this Beaujolais Grape variety recipe: Gamay
Temperature between 10 ° and 12 °