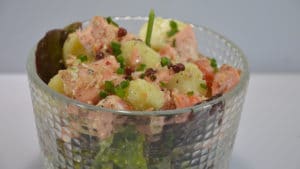 Potato Salmon Salad Recipe
I was alone for lunch at noon and I took advantage of a promo in my Hypermarket, which offered salmon scraps. I also had some leftover baked potatoes, so a recipe to finish off the leftovers in the fridge…. of course do not hesitate to play with the spices to flavor this beautiful salad with flavors of the sea. Salmon salad with potatoes with the arrival of sunny days, it replaces soups and soups, I like spring especially that this winter has been quite severe. Here is an easy recipe to make, ready in a few minutes, a nice way to empty your refrigerator. Do not hesitate to play with the spices, in order to spice up this salad of salmon with potatoes, well I admit that I like ginger a lot, especially its lemony side. I had no more caraway, because it goes wonderfully with the potato.
Salmon salad recipe with potatoes for: 2 people
Ingredients :
120 g of cooked potatoes
150 g of salmon steak
3 red Romaine lettuce leaves
1 small red onion
1 tablespoon of virgin sesame oil
1 teaspoon of lime juice.
½ teaspoon of Sechouan pepper
½ teaspoon of red berry
1 pinch of ground ginger
1 teaspoon of chopped chives.
Salt flower
Instructions
Cook the salmon with salt and pepper in the oven for 10 minutes at 200 °
Dice the potatoes.
Wash the salad, then cut it into strips.
Peel and finely chop the red onion.
Mix the potatoes with the salmon, salad and onion in a bowl.
Sprinkle with the ground ginger and fleur de sel.
Crush the pepper, then add it.
Pour in the oil and lemon juice.
Taste and adjust seasoning if necessary.
Add the chives.
Preparation time: 10 minutes
Cooking time: 0 minutes
Number of people: 2
4 star rating: 1 review
What wine to drink with: Salmon salad with potatoes
My favorite wine for this recipe: Muscadet val de Loire Grapes MELON Bourgogne
Temperature between 08 ° and 12 °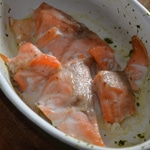 Cook the salmon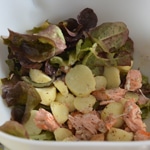 Mix the ingredients