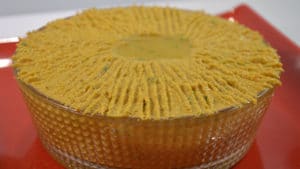 Sweet Potato Hummus Recipe
Summary: We really like this kind of dish as an aperitif, each one, according to his fancies and his gluttony, will cover more or less his toast. I really like the chickpeas and especially the hummus, this time, to relax him a little, I changed my habits with this beautiful sweet potato hummus (the sweet potato slightly softens the hummus without sweetening it too much) . Ideal to accompany an aperitif, but also with a large barbecue of meat and salad. Sweet potato hummus, this typical Lebanese dish should always be served with plenty of olive oil, the oil is generous and mixes with the chickpeas. There are many versions, but this Sweet Potato Hummus deserves your full attention.
Sweet potato hummus recipe for 10 people
Ingredients
400 g canned chickpeas, drained
100 g sweet potato
2 onions
2 cloves garlic
5 teaspoons of olive oil
½ teaspoon of raz el hanout
¼ teaspoon ground nutmeg
¼ teaspoon ground cinnamon
¼ teaspoon ground ginger
3 drops of Tabasco
1 tablespoon of lemon juice
10 teaspoons of sesame oil
Instructions
Peel the sweet potato, then cut it into small cubes.
Steam the sweet potato cubes for 20 to 30 minutes.
Drain the chickpeas.
Peel the onions and garlic, then thinly slice them.
Heat a casserole dish with 1 tablespoon of olive oil.
Add the onions, garlic and chickpeas to the hot oil and cook for 5 minutes.
Add the spices and Tabasco.
Mix the chickpeas with 4 tablespoons of olive oil.
Mix so that all the ingredients are well incorporated.
Add olive oil if necessary, the hummus should remain very relaxed and not dry.
Add hummus to the dish to serve.
Sprinkle with a few sesame seeds.
Reserve in the refrigerator.
Preparation time: 30 minutes
Cooking time: 20 to 30 minutes
Number of people: 10
4 star rating: 1 review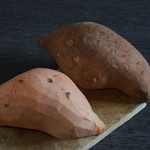 Peel the sweet potatoes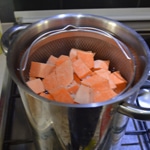 Peel the sweet potatoes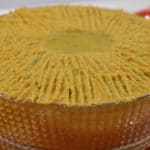 What wine to drink with: Sweet Potato Hummus Recipe
My favorite wine for this Crémant de Die Grape variety recipe: Clairette and Muscat à petits grains
Temperature between 6 ° and 7 °