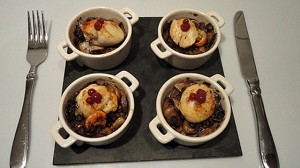 Recipe: Scallops with mushrooms
Recipe Scallops with mushrooms, to start a meal, I served them in casseroles. Be careful when cooking the scallops, just a round trip and your scallops are cooked. What is great is that the scallops can be found all year round, even at home in Franche Comté. Scallops with mushrooms a light recipe using diet cream.
Recipe ingredients
Scallops with mushrooms recipe: for 4 people
4 Scallops
8 large button mushrooms
40g butter
4 teaspoons of liquid cream.
2 shallots
5 sprigs of parsley
1 tablespoon of sour cream.
Salt and pepper.
Instructions
Thaw the scallops in the refrigerator overnight.
Place the scallops on absorbent food paper.
Cover with another sheet of absorbent food paper and let relax for an hour.
Clean and dry the mushrooms with food paper, cut them into thin strips.
Rinse, dry and chop the flat parsley with a knife along with the shallots.
In a hot pan, brown the shallots and parsley.
Add the button mushrooms, let them reject their water, as soon as they are colored.
Pour in the cream and reduce with the mushrooms.
Place the mushrooms in the ramekins and set aside in a hot oven at 90 °
Heat the butter in the pan without washing it over a low heat, so that it thighs gently without browning.
Sear the scallops for a few minutes in the butter, increasing the heat under the pan.
Season the nuts with salt and pepper.
Turn the scallops over to sear them on the other side, be careful not to overcook them.
Drizzle the scallops regularly with a large spoon of hot butter
Season the nuts with salt and pepper.
Place a nut per ramekin and serve quickly.
Preparation time: 20 minutes
Cooking time: 4 to 5 minutes
Number of people: 4
4 star rating: 1 review)
What wine to drink with: Scallops with mushrooms
My favorite wine for this recipe: Chablis Cépage Chablis
Temperature between 08 ° and 10 °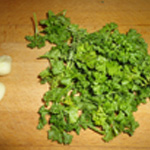 Chop the parsley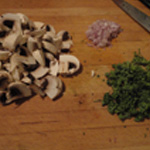 Slice the mushrooms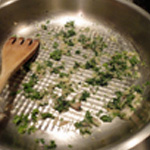 Sear the parsley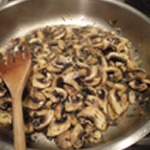 Add the mushrooms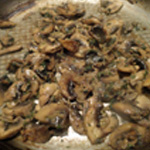 Leave to color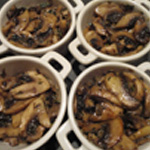 Fill the pots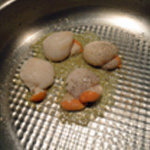 Sear the nuts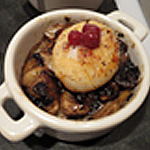 Ready