Recipe: Sea bass carpaccio
Sea bass carpaccio recipe Here is a recipe reserved for fish lovers. Carpaccio, I will test all the sea fish first and whenever it is interesting, I will put a carpaccio recipe online. Sea bass carpaccio or sea bass carpaccio, this is my first white fish, you choose the name.
Recipe ingredients
Bar carpaccio recipe for 3 people:
300 g sea bass fillet
½ lime
3 tablespoons of olive oil
1 teaspoon of coriander
1 teaspoon of capers
1 teaspoon of red berries
Instructions
Thinly slice the sea bass, with a sole fillet style knife.
Arrange the tuna slices on a platter.
Zest the lime.
Cut a lime in half.
Squeeze the juice from the ½ lemon.
Pour the lemon juice over the sea bass.
Drizzle with olive oil
Season with fleur de sel.
Pepper with coarse ground pepper.
Scatter the lime zest.
Add the capers.
Finely chop the coriander leaves with a knife.
Sprinkle with cilantro and red berries.
Leave one to two hours in the refrigerator.
Serve very chilled.
Preparation time: 20 minutes
Cooking time: 0 minutes
Number of people: 3
4 star rating: 1 review
What wine to drink with: Carpaccio de bar
My favorite wine for this recipe: Riesling Grape variety: Riesling
Temperature between 10 ° and 12 °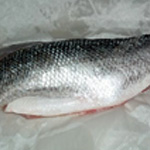 Lift the fillets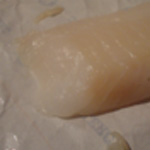 Cut finely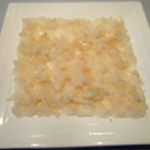 Store in a dish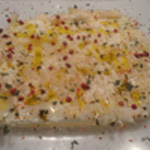 Salt and pepper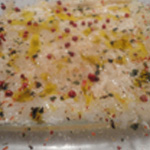 Drizzle with lemon