Recipe: Sea bass with candied fennel
Recipe for sea bass with candied fennel, I like the anise taste of fennel and I find that it goes wonderfully with sea fish. Sea bass, even when farmed, remains one of my favorite fish. It is also always fairly well calibrated and lends itself to all types of cooking and particularly to the barbecue, with its always soft flesh. Here for this fennel sea bass recipe, the fish is garnished with candied fennel, it will take on the taste of fennel as it is cooked, the flesh will be deliciously flavored. I added seaweed to cook for a few minutes in the pan they enhanced my fennel sea bass, I liked their little iodine taste. Bass or wolf it's the same thing, a fish that is hidden under another name, it is surely one of my favorite fish.
Recipe ingredients
Sea bass recipe with candied fennel for 2 people:
2 bars portion
4 fennel bulbs
1 teaspoon ground pepper
2 tablespoons of olive oil
50 g of butter.
Instructions
Trim the fish, then rinse under the tap.
Rinse the samphire.
Season generously with salt and pepper.
Slice the fennels in half and remove the first leaf.
Heat a pan with 1 tablespoon of olive oil.
Place the fennels cut-side down in the oil;
Crush the pepper then add half on the fennel, cook gently for 15 minutes.
Baste the fennel regularly.
Turn the fennel over and cook for another 15 minutes.
Pepper with the rest of the pepper.
A few minutes before the end of cooking, add the salicornia.
Once the fennel is candied, add fennel to the belly of the fish.
Bake the sea bass in a hot oven at 200 ° for 12 minutes.
Preparation time: 20 minutes
Cooking time: 12 minutes
Number of people: 2
4 star rating: 1 review
What wine to drink with: Bar with candied fennel
My favorite wine for this recipe: Macon blanc Cépage Chardonnay
Temperature between 11 ° and 13 °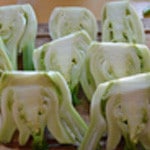 Slice the bulbs
Gently grill the bulbs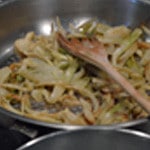 Let it be for now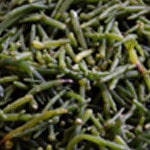 Seize the samphire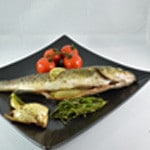 Zoom