Radish butter recipe
Another way to accompany an aperitif, I really like that everyone prepares their sandwich; this way we cover more or less, I always like the very generous portions. This radish butter has a lot more, it's also quite original, but I already like radishes with butter; so for sure: it was a recipe for me. I had my neighbor Audrey who came to our house for dinner, it's the first time, so there's no room for error. I also played with Sichuan pepper, I really like crushing it at the last moment, I like its flavor when it has just been crushed, its aroma spreads in the kitchen for everyone's pleasure. With spring, radishes are in the spotlight and in addition, today, as I write this post, the sun is there, long live spring with this radish butter. We accompanied him with a Riesling harvest Tardive from Pierre Reinhart in Orschwihr in the Haut Rhin, I love his wine
Radish butter recipe for 4 people
Ingredients :
1 bunch of organic radish with tops
100 g butter with sea salt crystals
3 young Egyptian onions
5 sprigs of fresh coriander
½ teaspoon of Sichuan pepper
Instructions
Stem and clean the radishes, then dry them.
Rinse then wring out 10 tops.
Rinse then wring out the flat parsley, then finely chop the parsley.
Roughly chop the radishes with the tops with a knife.
Wash the young onions, then slice lengthwise, then thinly.
Incorporate the soft butter into the radishes, crushed pepper, tops and parsley, with a fork.
Serve at room temperature, so that the butter is soft.
Preparation time: 10 minutes
Cooking time: 0 minutes
Number of people: 4
4 star rating: 1 review
What wine to drink with: Radish butter recipe
My favorite wine for this recipe Riesling Late harvest Grapes Riesling
Temperature between 9 ° and 10 °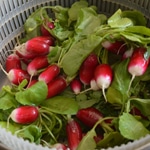 Wash the radishes with the tops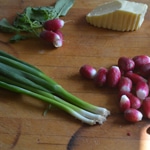 Trim the Egyptian onions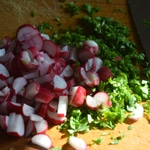 Slice tops and radishes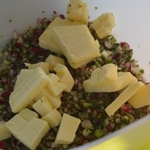 Add the butter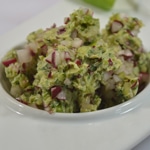 Zoom