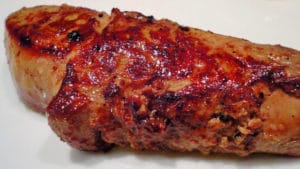 Instructions
here for this recipe I accompanied it with a William pear, a part cooked in wine and a part roasted in duck fat. The result is explosive for this pan-fried foie gras with pears, to test the marriage of fruit and foie gras is a joy. An easy-to-make pan-fried foie gras recipe, it can be prepared the day before, just keep a little time for cooking your foie gras for the next day. For the choice of your foie gras, I advise you to use a 1st choice foie gras from France from the southwest or from Alsace, your foie gras will melt less quickly and be held better. No need to vein for the preparation of foie gras. Do not make too thin foie gras cutlets, salt and pepper your foie gras cutlets before cooking them in the pan.
Ingredients
Recipe for 8 people:
2 lobs of foie gras
8 pears
20 cl of red wine
10 cl of balsamic vinegar
1 teaspoon of Séchouan pepper
1 tablespoon of flour
2 cinnamon sticks
40 gr of sugar
1 tablespoon of Séchouan pepper
Instructions
Peel the pears.
Cut the pears ¾, reserve the upper part.
Cut the pear section in four after extracting the middle.
Heat the wine with the balsamic vinegar, cinnamon sticks and sugar.
Place the small pears (upper part) rectified and cook over low heat for 15 to 20 minutes
depending on the size of your pears.
Reserve the cooked pears and let the cooking juice reduce.
Cut the foie gras into strips two centimeters thick.
Lightly flour the escalopes of foie gras.
Make them colored in a very hot pan on each side then set aside.
Loot the Séchouan pepper with a mortar.
Pepper the pear quarters then confine them in the fat of the foie gras under a low heat.
Heat your plates in the oven at 80 ° for 1/2 hour.
Reserve the candied pears with the plates.
Bring the pan up to temperature and finish cooking the foie gras.
Just before serving pour your sauce reduction into the pan.
Assemble your plates.
Preparation time: 30 minutes
Cooking time: 10 to 15 minutes
Number of people: 10
4 star rating: 1 review
What wine to drink with: Seared foie gras with pears
My favorite wine for this Puligny-Montrachet rouge recipe Grape variety: Pinot noir
Temperature between 14 ° and 15 °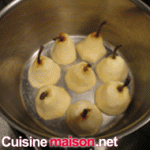 Cut the pears
Remove the middle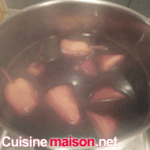 Cook in wine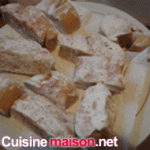 Flour the foie gras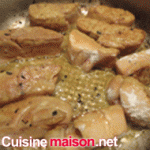 To cook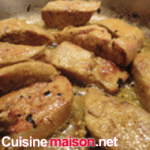 Flip the foie gras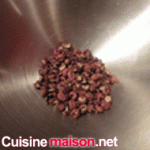 Séchouan pepper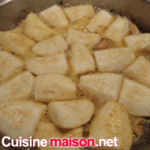 Cook the pears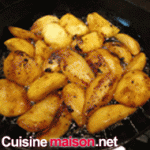 Roasted pears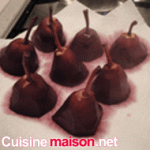 Wine poached pears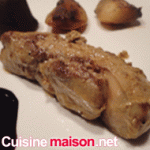 Foie gras escalope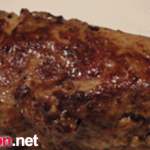 <img src="/wp-content/uploads/2021/09/7178839807026662106.jpg" class="aligncenter"