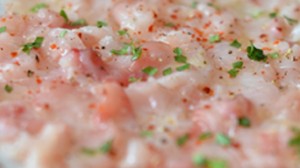 Recipe: Shark carpaccio
Recipe for shark carpaccio cooked in lime juice, a nice plate for a light recipe, amateurs will love it. The shark's pink color will enhance this plate, the shark's other name is sea veal. Shark carpaccio to change your daily life a little, a very special flesh, you will see your guests will love.
Recipe ingredients
Shark Carpaccio recipe for 4 people:
200 g of shark
2 sprigs of coriander
2 tablespoons of olive oil
1 lime
1 pinch of Espelette pepper
Salt flower
Peppercorns
Instructions
Thinly slice the shark slice.
Place the fish strips on a platter.
Cut a lime in half.
Squeeze the juice from the ½ lemon.
Pour the juice over the shark slices.
Season with fleur de sel.
Pepper with coarse ground pepper.
Finely chop the coriander leaves with a knife.
Sprinkle the cilantro over the fish.
Leave to cook for an hour in the refrigerator.
Add a drizzle of olive oil before serving
Very cool server.
Preparation time: 30 minutes
Cooking time: 0 minute (s)
Number of people: 4
4 star rating: 1 review
What wine to drink with: Carpaccio de Saint Jacques and passion fruit
My favorite wine for this recipe: Vin de Savoie Apremont Cépage Savagnin blanc; Chardonnay; Pinot Blanc
Temperature between 08 ° and 10 °
Thanks to Thibaut and Janos for the wonderful photos, memory of a long weekend at Easter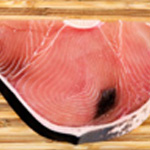 Slice the fish