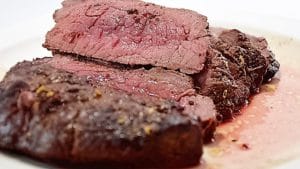 Sichuan Pepper Roast Beef Recipe
At home, we are big fans of red meat and particularly roast beef, here it is my friends from Jura Pascale and Bernard who provided me with this piece of king. The only problem is the cooking, it's the fight for my daughter it's well done, my son is ready and me blue, you can imagine the fight. No frankly I manage, but it's true that sometimes for me, I would have cooked it a little less. Choose a nice piece of roast beef, it says to be tender and tasty, for this Sichuan pepper roast beef recipe, I emphasized the flavor of this beautiful pepper from China. Do not forget to let your meat rest for a good half an hour out of the oven, before cutting it.
Sichuan peppercorn roast beef recipe for 3 people:
Ingredients
2 teaspoons of red Sichuan pepper.
1 teaspoon of fleur de sel
0.600 kg of roast beef
60 g butter
Instructions
Heat the oven to 200 °
Take out the roast beef an hour before cooking.
Coarsely crush the Sichuan pepper and salt in a mortar.
Roll the roast beef in the salted pepper.
Spread the remaining pepper with your hand.
Place the roast beef in a buttered ovenproof dish.
Spread the remaining butter over the meat before cooking it.
Cook the roast beef between 20 and 25 minutes, it takes 15 minutes per 500 gr, I like it not overcooked.
Cover the meat as soon as it comes out with aluminum foil and let the meat rest for about ten minutes.
Cut the roast beef.
Preparation time: 10 minutes
Cooking time: 20 minutes
Number of people: 0
4 star rating: 1 review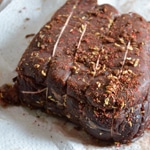 Pepper the roast beef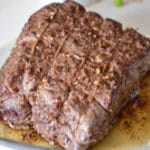 Zoom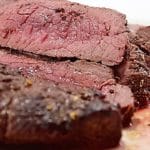 What wine to drink with: Sichuan Pepper Roast
My favorite wine for this recipe: Corbières rouge Le clos Redon 2015 Grape variety Syrah
Temperature between 16 ° and 18 °
Partnership with Château de Mattes – Sabran in Portel in Aude
A thought to all those connected from abroad in love with French cuisine and its wines, here is a great opportunity for you to buy a quality wine, to accompany my recipe for Roast beef with Sichuan pepper. I selected this Corbières Red wine from the Château de Mattes Saran estate in Portel in the Aude. After tasting it, I loved this red wine from Corbières from Mr and Mrs Brouillat Arnaud.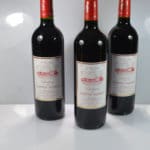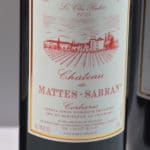 Zoom
Le Clos Redon 2015
The Syrah which dominates this wine with its very dark color, and these notes of cocoa and cooked fruits, very intense. it will be drunk between 16 and 18 °, with these 14 °, it will go perfectly with a roast beef. For the palate, the attack is very long with silky tannins. You can drink it now and will improve over the years. Awarded with the gold medal in 2004 by the competition of independent winegrowers.
Mattes Sabran Castle
Mr and Mrs Brouillat Arnaud
11490 Portel
Phone 09 77 78 21 35
Mattes-Sabran