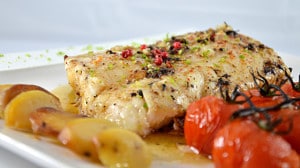 Recipe: Julienne fillet and lime
Julienne and lime recipe, gently cooking directly on baking paper without turning the fillet, cooked on top just with the butter and oil. Fish is good for health and we take advantage of it, but it is still expensive, especially in our region. I like cooking in oil and butter with a lot of pepper in order to raise the flesh well. Here it is coated with lime zest, giving it a little tangy taste.
Recipe ingredients
Julienne fillet and lime recipe for 2 people:
400 g of julienne back fillet
1 teaspoon Voantsy Perifery pepper
1 lime
1 large pinch of Espelette pepper
1 square sheet of baking paper
1 teaspoon or more of olive oil.
20 gr of butter
Instructions
Cut the parchment paper to the size of the pan.
Place the paper in the pan and turn on the low heat.
Pour the oil into the pan and add the butter.
Gently lay Julienne's back.
Salt generously with coarse salt.
Crush the pepper coarsely with. mortar
Sprinkle liberally over the fish.
Baste the top of the fish regularly with the hot fat.
Pull the lime zest directly onto the back.
The fish should cook gently for about 10 minutes.
Baste the back until the end of cooking.
Preparation time: 10 minutes
Cooking time: 10 minutes
Number of people: 2
4 star rating: 1 review
What wine to drink with: Julienne fillet and lime
My favorite wine for this recipe: Bergerac blanc Cépage Sémillon, Sauvignon blanc, Muscadelle
Temperature between 08 ° and 10 °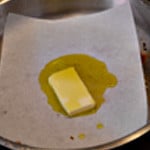 Butter and paper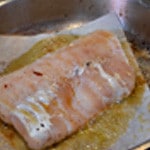 Cook the backs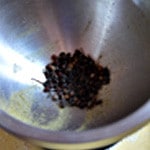 Voantsy Perifery Pepper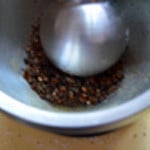 Mortar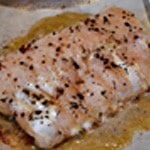 Baste the fish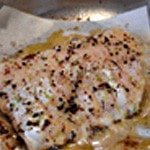 sprinkle with pepper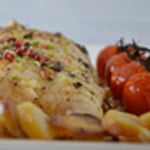 Cooked fish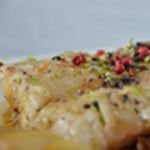 Zoom