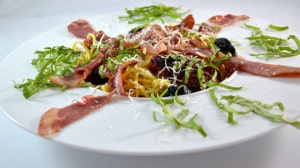 Recipe: Coppa spaghetti
Coppa spaghetti recipe, here is a new way to cook homemade spaghetti. What happiness, just to make the spaghetti, then comes the sauce and there it is once again that the pleasure. And when the great moment of tasting finally comes, I can confirm that I am very demanding. But I am rarely disappointed, at home we have complete mastery of fresh pasta and we are good at the accompaniment, moreover I will share it with you. Fresh pasta is very easy to make, the hardest part is drying the pasta. Indeed it is a mandatory phase to be able to keep them, or even cook them, they will not stick together. So just a little patience, two to three hours are obligatory, for me it is rather all night. On the other hand, I keep them for more than two months, although they rarely have time to stay that long.
Recipe ingredients
Coppa spaghetti recipe for 3 people:
350 gr of homemade and dry spaghetti, to make the fresh dough
200 gr of coppa
1 jar of sun-dried tomatoes
1 jar of Greek-style black olives
10 basil leaves
70 gr of Parmesan in pieces
Instructions
Heat a large volume of water.
Add a large spoon of oil from the sun-dried tomatoes
Heat the pan.
Add the sundried tomatoes and half the tomato oil.
Slice the coppa into small strips.
Distribute the coppa in the pan without overlapping too much at the start.
Let the charcuterie cook for 2 to 3 minutes
Cook the pasta in a large volume of lightly oiled water, 3 to 4 minutes and it's done.
Cut the basil into strips.
Wring out the pasta on your empty plates to heat them up.
Reserve the pasta.
Wipe the plates dry and place a portion of spaghetti on each plate.
Salt and pepper
Add a generous portion of the coppa preparation.
Grate Parmesan cheese directly into the hot plate.
Sow a few twigs of basil.
Serve hot plates quickly.
Preparation time: 20 minutes
Cooking time: 5 minutes
Number of people: 3
4 star rating: 1 review
What wine to drink with: Spaghetti à la coppa
My favorite wine for this recipe: Red Arbois Grape Pinot Noir
Temperature between 10 ° and 13 °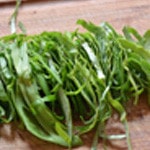 Slice the basil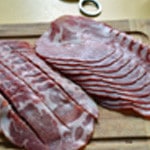 The coppa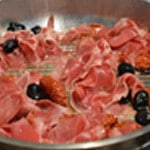 seize the coppa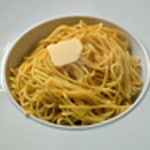 Cook the spaghetti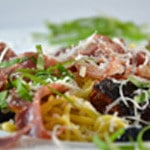 Zoom