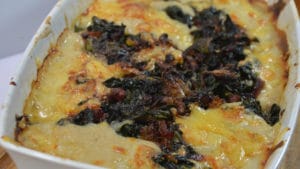 Chard gratin recipe
My daughter loves chard chops, I had a little trouble at first, but with this chard gratin recipe, I like it. It must be said that the Comté enhances the dish well, it comes directly from Salins les Bains in the Jura. This time, to make a complete meal, I added grilled bacon and the green leaves of the chard chops, spinach style (saving no loss in this dish). Chard gratin: ideal for a family meal, in the evening, a small dessert and voila; of course you can play with the spices to give it different flavors. You can also (to give it a fun side, quite classy), add the leaves after the passage in the oven; in this way they will keep a beautiful green, it only remains to put them here and there, in order to let appear the toast of the county. Here is as I write my article, I say to myself: but why I did not think of it before.
Chard gratin recipe for 3 people:
Ingredients
1 bunch of chard chops
1 liter of milk
1 teaspoon of coarse salt
1 onion
100 g of smoked bacon
1 tablespoon of olive oil
30g butter
30 g flour
90 g of Comté
Instructions
Preheat the oven to 180 °
Remove the green leaves from the ribs
Wash the leaves, then cut them finely like spinach.
Wring the leaves then dry them in a tea towel.
Cut the white section into 2 cm pieces, taper as you go.
Pour the milk into a saucepan with a teaspoon of coarse salt.
Add the chopped Swiss chard and cook for about 15 minutes.
Meanwhile, peel the onion, then cut it finely.
Heat a pan with the oil.
Brown the chopped onion and the bacon.
Add the chard leaves and cook them gently in the pan, cover halfway.
Drain the ribs, collecting the milk to make the béchamel sauce.
Mix the chard and leaves with the bacon.
Place the chard chops with bacon in a dish.
Prepare the homemade béchamel sauce.
Melt the butter in a saucepan.
Add the flour, stir constantly: the flour should not color.
Add the cooking milk slowly while stirring, to avoid lumps.
Salt and pepper.
Grate the nutmeg.
Pour the homemade béchamel sauce over the chard chops.
Grate the Comté then sprinkle it over the preparation.
Bake in a hot oven for 30 minutes.
Preparation time: 20 minutes
Cooking time: 30 minutes
Number of people: 3
4 star rating: 1 review
What wine to drink with: Chard gratin
My favorite wine for this recipe: Cote de Blaye Blanc Grape varieties: Sémillon, Sauvignon blanc and Muscadelle
Temperature between 08 ° and 10 °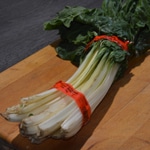 Rinse the chard chops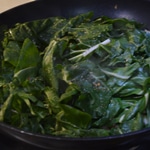 Strip the chard chop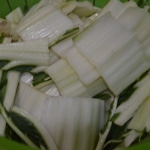 Slice the white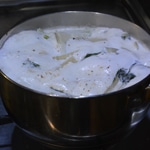 Cook in milk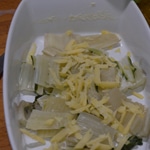 Add cheese<img src="/wp-content/uploads/2021/09/492275552398794612.jpg" class="aligncenter"