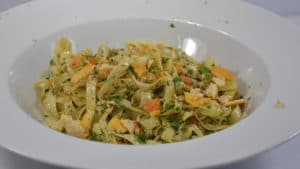 Cilantro Tagliatelle Recipe
Always a great time at home; I take more and more pleasure in preparing my fresh pasta. This time, I will cut them by hand, with a new technique, I will continue to test it and I will tell you about it as soon as I am ready. Tagliatelle with coriander, today it was two homemade pasta recipes, indeed a friend arrived unexpectedly for lunch and we did not have enough salmon tagliatelle; no problem… ready in a few minutes I had prepared Tagliatelle with cilantro (I had kept them around for a long time, for a troubleshooting recipe). It is not always easy to eat what you want at home, meals are punctuated according to the needs of the site. Anyway, for me it stuck and I also adored my Tagliatelle with coriander, it must be said that with coriander we like it or not, there is not double standards.
Recipe of Tagliatelle with coriander for 2 people:
Ingredients
250 g of fresh Tagliatelle
13 g fresh coriander
7 basil leaves
2 cloves garlic
½ teaspoon ground pepper
1 tablespoon of olive oil
1 piece of Parmesan to grate.
Instructions
Prepare the fresh homemade dough by following the link.
Let the dough rest for 30 minutes at room temperature.
Machine-roll the dough, I go up to number 5 (for a Kichenaid)
Cut the Tagliatelle by machine or by hand.
Rinse the herbs, then dry thoroughly with food paper.
Peel the garlic, then finely chop it.
Heat a large volume of salted water.
Place the tagliatelle as soon as the water boils; lower the heat as soon as the water rises in temperature.
Cook the tagliatelle, beware the fresh pasta cooks very quickly.
Meanwhile, brown the garlic in hot oil to flavor it well.
Drain the pasta.
Pass the pasta in still hot oil
Sprinkle with the herbs, toss and serve quickly on hot plates.
Grate a little Parmesan cheese directly onto the plate.
Preparation time: 10 minutes
Cooking time: 4 to 6 minutes
Number of people: 2
4 star rating: 1 review
What wine to drink with: Tagliatelle with coriander
My favorite wine for this recipe: Alsace Sylvaner Cépage Sylvaner
Temperature between 08 ° and 10 °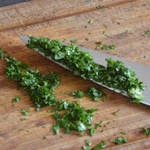 Chop the cilantro
Cook the pasta