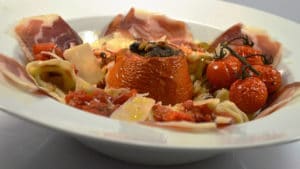 Homemade pasta and stuffed tomatoes recipe
You are going to say another pasta recipe, and yes, as we never eat the same pasta, I will share our tests with you each time, if of course they bring an interest to the tasting. This time the tomato is in the spotlight in this recipe, already the Roma barely stretched I love it especially with mozzarella and a little extra virgin olive oil, then the cherry tomato in a cluster that I cook in the oven in strips of 4. With my recipe for homemade pasta and stuffed tomatoes, I used the rest of my arugula pesto, which came to give flavor and especially a beautiful green color to this dish of tomatoes. We devoured this homemade pasta and stuffed tomatoes, with these strips of Parmesan and its fennel confit, full of different flavors in this beautiful pasta dish.
Recipe Homemade pasta and stuffed tomatoes for 4 people:
Ingredients
700 g of raw pasta
3 tablespoons of olive oil
3 Roma tomatoes
3 tablespoons arugula pesto (online Saturday)
2 green peppers
2 branches of cherry tomatoes
2 cloves garlic
1 bunch of coriander
125 g pine nuts
1 fennel bulb
150 g of raw ham, skinned
150 of Parmesan cheese to grate
Instructions
Prepare the fresh pasta by clicking on the link.
Cut the homemade pasta in the shape of a Mafalde by clicking on the link.
Let the mafaldes dry while preparing the sauce.
Rinse the cherry tomatoes, without detaching them from the bunches.
Roast the pine nuts in a dry pan.
Cut strings of 4 cherries, place them in an oiled dish that goes in the oven.
Lightly oil the cherry tomatoes.
Salt and pepper.
Rinse the Roma tomatoes, cut them ¾.
Hollow out the tomatoes, removing most of the flesh, without touching the bottom.
Make feet with aluminum foil, so that the tomatoes stay straight.
Lightly dig the tomatoes, leaving some flesh at the bottom.
Grate 50 g of Parmesan, then mix with the pesto.
Add the pine nuts to the pesto, but reserve 12 pine nuts for decoration.
Stuff the tomatoes with the arugula pesto.
Place a few pine nuts on the pesto.
Place the tomatoes in the tomato dish.
Bake for 30 minutes at 180 °.
Slice the fennel bulb into thin strips.
Sear the fennel in a spoonful of olive oil under a low heat.
Heat your plates with boiling water and enjoy.
Preparation time: 30 minutes
Cooking time: 7 to 8 minutes
Number of people: 4
4 star rating: 1 review
What wine to drink with: Homemade pasta and stuffed tomatoes
My favorite wine for this recipe: Bourgogne Pinot Noir Grape Pinot Noir
Temperature between 12 ° and 14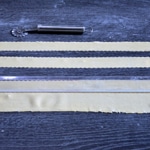 Cut the sick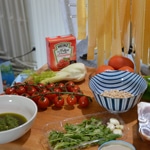 Ingredients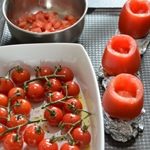 Digging the tomatoes
To slice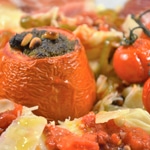 Zoom