Sauerkraut recipe
Sauerkraut recipe. Nothing better than a homemade garnished sauerkraut, of course with this recipe we have the chance to make our own cabbage, finally it is especially the grandfather René who makes the cabbage. I like the pairing of sauerkraut with beer, much more digestible than with white wine, although we serve it with beer. Be careful when cooking sauerkraut, simmer gently, it should simmer and not burnt, just at the end. You can even cook the sauerkraut in your oven with your cast iron casserole dish, with rotating heat, there it does not burn. Here is a garnished sauerkraut recipe that you can reheat at will, I love sauerkraut.
Recipe ingredients
Sauerkraut recipe for 4 people
1,500 kg of sauerkraut
8 small potatoes
3 onions
1 Morteau sausage
1 Montbéliard sausage
0.400 g of fresh pork belly
0.400 g smoked pork belly
4 knacks
1 ham
2 tablespoons of caraway
6 sprigs of thyme
6 bay leaves
15 juniper berries
2 tablespoons of duck fat
25 cl of strong beer (6 to 8 °)
Instructions
Rinse the sauerkraut in hot water and let it drain.
Peel and cut the onions into small pieces.
Heat the duck fat in the cast iron casserole dish, then throw in the onions and cook for 3 to 4 minutes.
Leave to cook so that they become translucent.
Mix the onions with the cabbage off the heat.
Add the caraway, juniper berries, thyme sprigs, bay leaves, mix well.
Remove half of the cabbage, arrange the meat on half of your sauerkraut.
Cover your meat with the rest of the cabbage.
Add the beer.
Place the potatoes on the cabbage and cook for 3 hours over very low heat, gently….
Preparation time: 20 minutes
Cooking time: 3 hour (s)
Number of people: 4
4 star rating: 1 review
What wine to drink with Sauerkraut
My favorite wine for this recipe: beer
Temperature between 8 ° and 10 °
I especially thank the grandpa René for his cabbage and Patrice for the photos.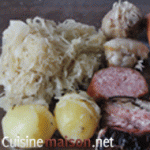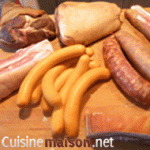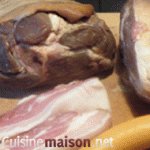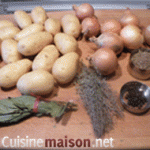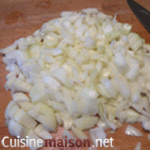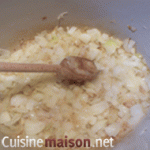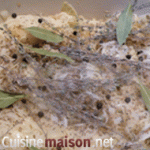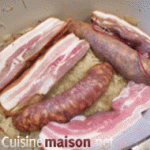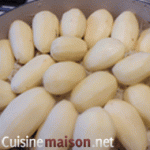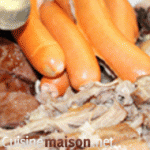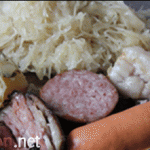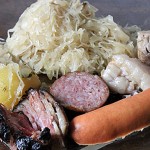 More recipes:
Royal sauerkraut

Sauerkraut from the sea

Sauerkraut with duck fat

Lentil sausages
Sauerkraut
Montbeliard sausage
Morteau sausage Pascal
Hide reactions

with a pickled cabbage like that it's a treat

A sauerkraut like you never eat; combining a whole mixture of different flavors of spices. A pleasure without restraint.
Frèdèric.

pascal, it's all the art of mixing spices that you can't even imagine. we loved the cumin. the cabbage and the potatoes were succulent. too strong. bravo!

Everyone knows sauerkraut, but Pascal's is a treat! Raised as we like and to resume twice….
Your reactions / questions / tips: Cancel reply
Remark
Name *
Email *
Website
</p