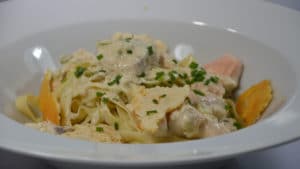 Marinated Salmon Tagliatelle Recipe
Of course it's often a party at home, as soon as I make homemade pasta, I prepared my recipe for my neighbor Audrey, who comes to eat for the first time at home. I really like to combine salmon and homemade tagliatelle, here the marinated salmon a little before low temperature cooking, to give it a special flavor. Tagliatelle with marinated salmon, a dish with lots of flavor, slightly tangy with lime, you will fall for this recipe with all these flavors.
Marinated salmon tagliatelle recipe for 2 people
Ingredients :
2 salmon steaks
200 gr of tagliatelle
20 cl of coconut cream
4 cherry tomatoes
1 lime
1 teaspoon of honey
1 piece of fresh ginger
1 tablespoon of soy
2 tablespoons of chopped cilantro.
1 tbsp to cook the salmon.
Instructions
Cut the salmon into cubes, removing all the bones.
Pour the salmon into a small bowl.
Pour in the honey and coconut milk.
Pull the zest from the lemon and add its juice.
Add the spices.
Mix well to coat the salmon.
Film and reserve overnight in the refrigerator.
Cook the pasta the next day.
Heat a frying pan.
Add the salmon and its marinade and cook for 5 to 7 minutes.
Pour the pasta into the still hot pan.
Serve in hot plates and sprinkle with the chopped cilantro.
Preparation time: 30 minutes
Cooking time: 5 to 7 minutes
Number of people: 2
4 star rating: 1 review
What wine to drink with: Tagliatelle with marinated salmon
My favorite wine for this recipe: Riesling Grape Riesling
Temperature between 8 ° and 10 °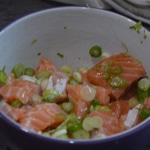 Marinate the salmon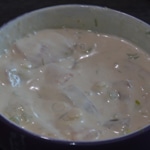 Prepare the sauce