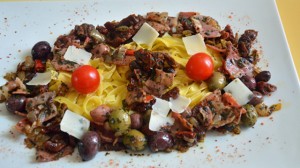 Recipe: Tagliatelle with olives
Recipes of Tagliatelle with olives, a fresh dough recipe with lots of long flavors in the mouth, a real killer. I love the taste of the oil that has marinated with the tomatoes, it is always devilishly fragrant and lends itself wonderfully to this type of recipe. Homemade pasta is really great to make, plus it's very hot, so it's easy to dry it.
Recipe ingredients
Tagliatelle recipe with olives for 4 people:
2 onions
200 g dried tomatoes in oil
100 g green olives
100 g olive of different colors
150 g Parma ham
80 g parmesan
50 g basil
Instructions
Make the fresh dough.
Roll the tagliatelle.
Cut the tomatoes into strips.
Peel and cut the onions.
Pour 2 tablespoons of oil from the jar of sundried tomatoes into a frying pan.
Sear the chopped onions in the tomato oil.
Cut the Parma ham into small squares.
Add the olives to the pan, lower the heat.
Grill the ham, adding more tomato oil if necessary.
Add the basil.
Cook the tagliatelle in a large volume of salted water.
Pour one to two tablespoons of tomato oil to grease the tagliatelle well.
Serve on hot plates.
Sprinkle Parmesan shavings directly over the pasta.
Preparation time: 45 minutes if you make your pasta fresh
Cooking time: 4 to 5 minutes
Number of people: 4
5 star rating: 1 review
What wine to drink with: Tagliatelle with olives
My favorite wine for this recipe: Baralo Piemont Cépage Nebbiolo
Temperature between 14 ° and 17 °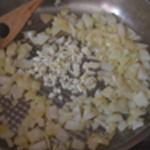 Sear the garlic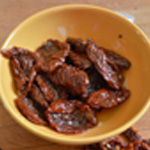 Drain the tomatoes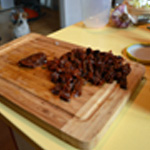 Crush the tomatoes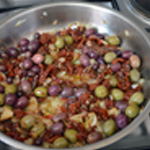 Enter the ingredients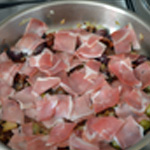 Grill the ham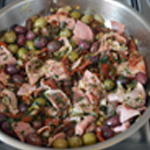 Mix all ingredients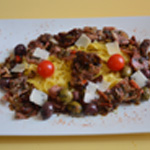 Ready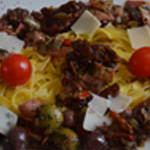 Zoom