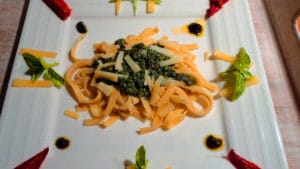 Pesto Tagliatelle Recipe
Fresh tagliatelle, surely my favorite pasta they go wonderfully with pesto, Italian pesto pasta, it's true they are the kings of the passta. A homemade pesto sauce for basil lovers, I'm lucky to have grandma Ginette who sows me basil stems, that way I have pesto all year round. Here is a great recipe to receive unexpected friends, tagliatelle with homemade pesto, more than grating the Parmesan and it makes a dinner of kings.
Tagliatelle with pesto recipe for: 4 people
Ingredients :
320 g of fresh homemade tagliatelle (level 4, for dough machine) or fresh section from the grocery store
½ bunch of basil
4 sundried tomato halves, homemade or bought from the grocer
200 g of homemade pesto
100 g of Parmesan to grate
Instructions
Cook your fresh pasta in 5 liters of salted water, be careful cooking must be Al dente
Grate the Parmesan.
Pass through a colander and let drain well.
Cut your Parmesan cheese into strips.
With tongs share your pasta on the plates.
Pour the pesto over the hot pasta
Sprinkle Parmesan over hot pasta.
Preparation time: 5 minutes
Cooking time: 3 to 4 minutes
Number of people: 4
4 star rating: 1 review
What wine to drink with: Tagliatelle with pesto
My favorite wine for this recipe Blaye blanc Grape variety: Merlot; Cabernet Franc ; Cabernet Sauvignon
Temperature between 15 ° and 16 °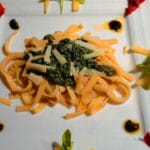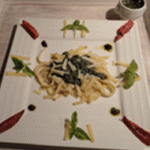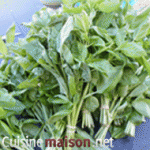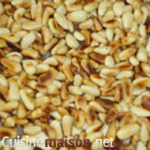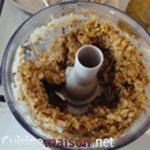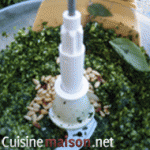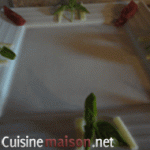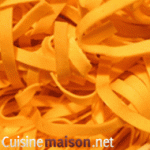 More recipes:
Basil and parmesan pesto

Wild garlic salmon tagliatelle

Basil pesto

Spaghetti with arugula pesto Pascal
A comment

Hide reactions

Lots of taste of course… Ideal for family evenings…
Your reactions / questions / tips: Cancel reply
Remark
Name *
Email *
Website