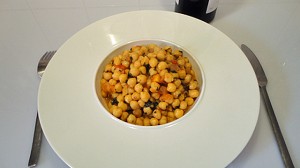 Recipe: Chickpea Tomatoes
Recipe for chickpeas and tomatoes, a vegetarian dish with leftovers from my fridge, I didn't have much time to cook. Here is a dish that I will do again this summer, barely more spicy and probably in a glass. I used canned chickpeas for this tomato chickpea recipe
Recipe ingredients
Chickpeas tomato recipe for 4 people:
400 gr canned chickpeas
2 tomatoes
2 shallots
2 cloves garlic
½ bunch of parsley
1 tablespoon of olive oil
40g butter
1 knife tip of ground nutmeg
1 teaspoon ground coriander
1 teaspoon of ginger
Salt
Instructions
Peel and finely chop the shallots.
Peel and finely chop the garlic.
Rinse to dry and finely chop the parsley.
Rinse and then dry the tomatoes.
Cut the tomatoes into small cubes.
Heat a pan with the butter and oil.
Add the shallots then the garlic and finally the parsley.
Pour the crushed tomatoes into the pan, let the tomato juice evaporate a little.
Drain the chickpeas.
Pour in the chickpeas.
Add the spices, salt and pepper, then reduce all the juice.
Preparation time: 30 minutes
Cooking time: 30 minutes
Number of people: 4
4 star rating: 1 review
What wine to drink with: Chickpeas, tomatoes
My favorite wine for this recipe: Bandol rouge Cépage Mourvèdre; Cinsault, Grenache noir
Temperature between 17 ° and 18 °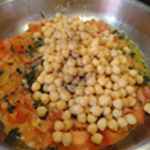 Add the chickpeas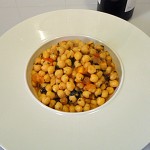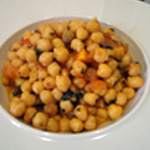 Zoom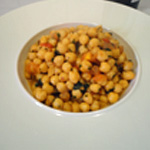 Plate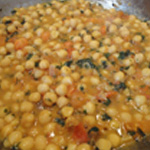 Let reduce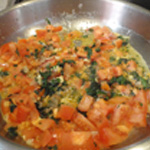 Reduce the juice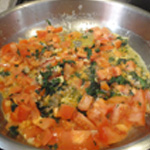 Sear the tomatoes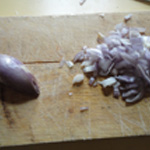 Slice the shallots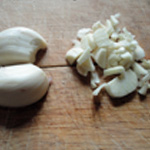 Mince the garlic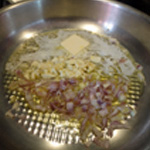 Sear garlic and shallots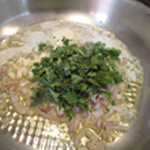 Add the parsley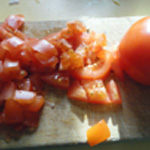 Slice the tomatoes into cubes