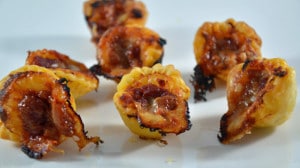 Recipe: Tomato mozzarella puff pastry
Tomato mozzarella puff recipe, I love tomato puff pastry. The tomato sauce remains very tasty in these small puffs, so don't hesitate to add a little spice to the tomato sauce. Be careful when removing from the oven, the tomato remains very, very hot for a long time, never serve the puff pastry out of the oven, wait a few minutes for the temperature to drop a little. I love these little tomato mozzarella puff pastry, with their colors impossible not to be sensitive, but I take a lot of pleasure in making them, I got used to every time a friend arrives and hot it's ready in a few minutes, for everyone's enjoyment. You can vary with ketchup but it will be a little sweeter, but I let my tomato sauce reduce so much that it will have the consistency of ketchup.
Recipe ingredients
Tomato mozzarella puff pastry recipe for 15 to 20 reduction:
1/2 roll of puff pastry
10 mozzarella balls
2 tablespoons of tomato paste for color
1 tablespoon of ketchup without sugar.
3 drops of Tabasco more or less depending on the strength sought.
Pepper and salt
Instructions
Put the mozzarella in the bowl of the robot.
Pour more or less of a drop of Tabasco, be careful, this will lose strength with cooking.
Pour the ketchup.
Add tomato paste for color.
Mix to mix the preparation well.
Take out the puff pastry half an hour before cutting it
Unroll the puff pastry.
Cut out using a cookie cutter barely larger than the impressions.
Place a circle of puff pastry in each cavity.
Pierce the bottom of the mini tarts with a fork.
Add a teaspoon to each tart.
Place in a hot oven for about 10 to 15 minutes.
Preparation time: 15 minutes
Cooking time: 15 minutes
Number of people: 4
4 star rating: 1 review
What wine to drink with: Tomato mozzarella puffs
My favorite wine for this recipe: Bourgogne aligoté grape variety Aligoté
Temperature between 08 ° and 10 °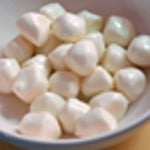 Mozzarella ball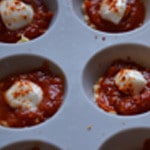 Place a half ball