Recipe: Langoustine soup
Summary: Lobster soup recipe, I love cooking damsels of the sea, here in a consomme ideal for a start to a meal for the end of the year celebrations. Just a little tasty broth and a few cooked langoustines before serving. It reminds me of great times spent with my little sister Corine at La Turballe, where we returned from the auction with kilos of langoustines caught of the day in the bay of Croisic. It was our meal of the evening, only langoustines, all around a table and we tasted them with our fingers. I remember those evenings when the grandmother was happy with the moments she spent with her children and grandchildren. A beautiful thought also to these days spent on the beach of La Turballe out of season, where this immense beach of fine sand, was almost right for us. Thank you Corine for these Royal moments. Now you understand that this langoustine soup has revived beautiful memories.
Recipe ingredients:
Lobster soup recipe for 8 people:
16 langoustines
2 stalks of celery
1 small leek
1 large onion
1 rave
2 cloves
4 carrots
2 teaspoons of coarse salt
1 tablespoon of peppercorns
2 tomatoes
10 cl of white
Instructions
Peel the vegetables, then finely chop, except the onion.
Destroy the langoustines.
Remove the black gut from the little animals.
Keep the langoustine bodies in the fridge.
Slice the onion in half and place the cut side in the hot pan, let brown.
Add the oil to the Woks pan and reserve the onion a little toasted.
Pour the shells and the heads of the langoustines in the hot oil.
Seize the heads so that they are colored on all sides.
Flambé with Armagnac.
Add the vegetables, cover with water and simmer gently for an hour.
Filter the broth.
Return to temperature and cook the langoustines for one minute, just before serving.
Preparation time: 20 minutes
Cooking time: 60 minutes
Number of people: 8
4-star rating: 1 review)
What wine to drink with: Langoustine soup
My favorite wine for this recipe: Alsace Sylvaner Cépage Sylvaner
Temperature between 08 ° and 10 °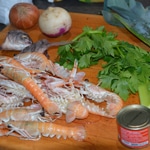 Ingredients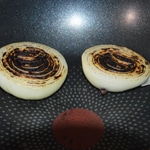 Grill the onion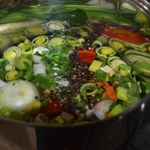 Cook the vegetables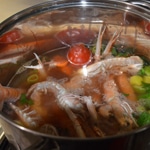 Add the langoustines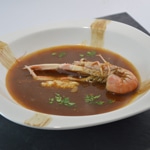 Zoom