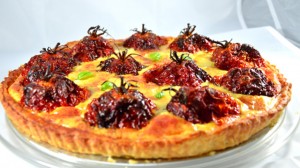 Recipe: Tomato pie
Tomato pie recipe, here I confit the tomatoes to give them even more flavor and completely remove their water, in order to cook them with a puff pastry. We loved this tart as beautiful as it was good, rather original, the whole candied tomatoes were deliciously tender and soft. The Comté had delicately flavored the crème fraîche and the dough was still divinely flaky.
Recipe ingredients
Tomato tart recipe for 6 people:
11 nice, plump tomatoes
1 puff pastry
3 eggs
1 egg yolk
10 cl of liquid cream
100 g of grated Comté
80 g cubed county
Instructions
Rinse the tomatoes under running water.
Place the tomatoes on a baking dish.
Bake in the hot oven at 145 ° for 2 hours.
Generously butter and flour a pie plate.
Roll out the puff pastry then place it in a tart mold.
Brush the pie shell with the egg yolk to make it waterproof.
Prick the bottom and bake for 20 minutes in the oven.
Mix the cream with the eggs and grated cheese.
Arrange the tomatoes on the precooked puff pastry.
Pour the cream mixture, without putting any on the tomatoes.
Place the Comté cubes well in the center of the pie.
Bake in the oven at 180 ° for about 30 minutes.
Preparation time: 20 minutes
Cooking time: 30 minutes
Number of people: 6
4 star rating: 1 review
What wine to drink with: tomato pie
My favorite wine for this recipe: St Nicolas de Bourgueil Grape variety Cabernet Francs and Sauvignon
Temperature between 13 ° and 16 °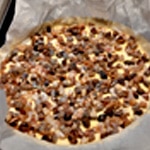 Bake white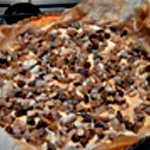 Remove pebbles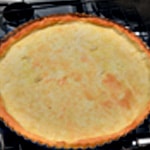 Cooked dough
Rinse the tomato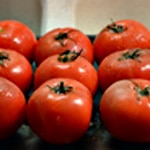 Place the tomatoes on a baking sheet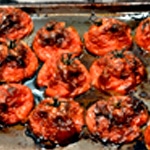 Tomato confit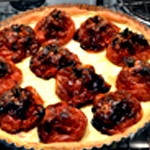 Place the candied tomatoes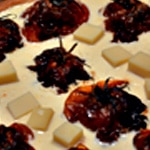 Add county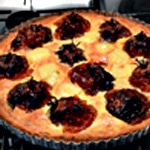 Pour the device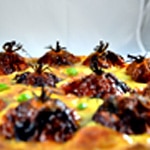 Zoom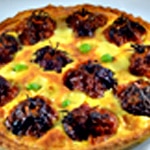 Consume