Foie gras recipe with caramelized pears
Summary : We love foie gras, in all its forms, it's an institution at home. A good balance between salt and pepper will give you complete satisfaction, the alcohol brings different flavors depending on the alcohol chosen, for me I use Armagnac and a little Port which adds color. Today we are able to find high quality foie gras if you prefer French quality. This foie gras with caramelized pears will not leave anyone indifferent, I particularly appreciated the flavor of the caramelized pears which divinely perfumed this foie gras. We love foie gras so much that we eat it all year round, and my friends are always ready to come and try this foie gras with caramelized pears.
Foie gras recipe with caramelized pears for 6 people
Ingredients :
1 lobe of stripped foie gras
1 tablespoon of Armagnac
1 tablespoon of Port
25g butter
12 g of salt per kilo
1 g of pepper per kilo
Instructions
Peel the pears, then cut into quarters lengthwise.
Heat the butter in a pan.
Place the pears and cook for 3 minutes.
Sprinkle with sugar and let caramelize.
Let the pear stew for about 12 minutes under a low heat.
Let the pears cool.
Salt and pepper the foie gras, respecting the dosages, it is important for the success of your liver.
Add the alcohols.
Stir gently with a wooden spoon, without heating the foie gras.
Half fill the terrine with foie gras, packing a little.
Place the caramelized pear in the center of the terrine
Coat the pears with the foie gras.
Place the rest of the foie gras without crushing the pears.
Bake the foie gras in the hot oven for 17 minutes, depending on the desired doneness.
Let the foie gras cool.
Store the foie gras in the refrigerator.
Let your foie gras perfume for a short week.
Preparation time: 40 minutes
Cooking time: 12 to 15 minutes
Number of people: 6
4 star rating: 1 review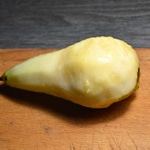 Peel the pears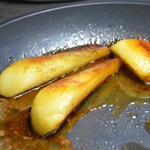 Sear the pears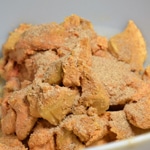 Season the foie gras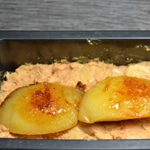 Place the caramelized pears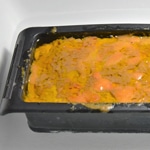 Cooked foie gras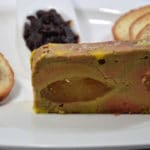 What wine to drink with: Foie gras with caramelized pears
My favorite wine for this Gewurztraminer recipe Grape varieties: Gewurztraminer
Temperature between 08 ° and 10 °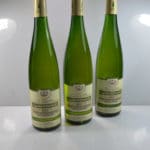 Gewurztraminer 2013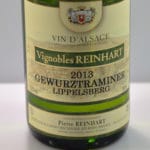 Gewurztraminer 2013 Zoom
Partnership with the domain of Pierre Reinhart
A thought to all those connected from abroad in love with French cuisine and these wines, here is a great opportunity for you to buy a quality wine, to accompany my Foie gras recipe with caramelized pears. I selected this Alsace Gewurztraminer 2013 wine from the Pierre Reinhart estate in Orschwihr in the 68, after tasting it,
Phone 03 89 76 95 12
 </p