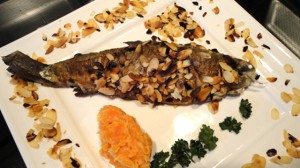 Recipe: Trout ax almonds
Recipe trout with almonds, a recipe for trout, of course fishing in the Loue where wild trout abound. Cooking Franche Comté trout is a bit chauvinistic, but it's true that you can find trout in all the markets in the region. Cooking trout with almonds, here are several that my father had indirectly plugged me into this recipe. Baked almond trout or pan almond trout, it's still an easy recipe.
Recipe ingredients
Recipe Trout with almonds for 4 people 4 trouts
100 g flaked almonds
2 tablespoons of flour
20 g butter
2 tablespoons of olive oil
1 lemon
Salt pepper
Instructions
Cut the lemon into thin slices.
Rinse the trout with water.
Wipe them thoroughly in absorbent paper.
Salt and pepper then flour them on both sides
Pat the fish to remove excess flour.
Toast the almonds in a hot pan, without fat.
In the pan, brown the butter with the olive oil and sear the trout 4 to 6 minutes per side.
Add the almonds at the end of cooking.
Place the lemon slices before serving.
Preparation time: 30 minutes
Cooking time: 4 to 6 minutes per side
Number of people: 2
4 star rating: 1 review
Which recipe to drink with: Trout with almonds
My favorite wine for this Pouily-Fuissié Grape variety: Chardonnay
Temperature between 12 ° and 15 °