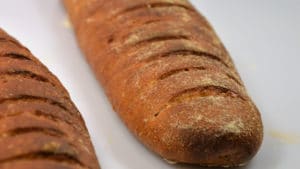 Rye bread recipe
And here is another new bread, we never tire of all these recipes, this book is really wonderful. Here with the rye bread, ideal for making toast and it is so much more trendy to present your bread. I admit that this liquid leaven is a real killer, it transforms all my breads, I love it. I particularly like its smell and its flavor, I used it for my dinner aperitif, it is super thin slices! this rye bread won unanimous support; all were thrilled, here I am a bit of a baker, what pride to present his creations, well I admit that it is not a concern of economy, because it is a lot of work, but the result is there. I will present new breads to you regularly, this way you can benefit from my experiences, in any case I recommend this rye bread, even for breakfast, it was still the king.
Rye bread recipe for 3 loaves of 320 g
Ingredients :
350 g T130 rye flour
150 gr of type 65 wheat flour
360 gr of water at 20 °
100 gr of liquid sourdough
2 gr of fresh baker's yeast
10 gr of salt
Instructions
Preheat the oven to 225 °, after placing the rack in the low position.
Add all the ingredients to the mixer bowl fitted with the hook.
Mix for 7 minutes at low speed, then mix again for 1 minute at high speed.
Form a ball and let it grow for 1 hour near a heat source.
Flour the work surface.
Place the ball in the center of your plan.
Separate the ball into 3 dough pieces.
Give them the shape of a ball, then leave to rest for 15 minutes.
Gently flatten the dough pieces with the palm of your hand.
Fold a third dough over and press down with the base of your hand.
Turn 180 ° then fold up another third and press with the base of your hand.
Roll up to give them an oval shape.
Place the dough pieces, solder underneath.
Sift the rye flour on top of the dough pieces
Laminate in a chevron every centimeter.
Leave to grow for 1 hour.
At the same time, pour 5 cl of water into the bottom plate, close the oven door.
Cook for 30 minutes.
Leave the breads to cool out of the oven on a wire rack.
Preparation time: 3 hours 30 minutes with the shoots
Cooking time: 30 minutes
Number of people: 3 dough pieces of 320 g
4 star rating: 1 review
A magnificent bread, I like its smell and its flavor, ideal for an aperitif, it will suffice to slice it into thin slices of bread and each one will cover them as desired.
What wine to drink with: Rye bread
No particular wine with this recipe, because it is the dish that will define the wine.
Source: Le Larousse du pain by Eric Kayser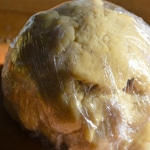 Let the dough rest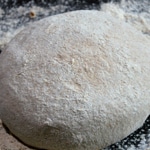 Flour generously