Turkey kebabs recipe with 5 spices and honey
The weather is fine and of course the barbecues are coming, I like to grill the meats with my barbecue. Turkey kebabs with 5 spices and honey, a beautiful kebab with slightly spicy flavors, we loved these beautiful kebabs. Turkey or chicken it depends on your wishes each one can choose according to these means. The turkey lends itself well to this day of cooking, be careful not to grill the meat too much, it must remain soft and tasty. Turkey brochettes with 5 spices and honey to consume with a good fresh rosé but of course in moderation. These are skewers that will delight lovers of oriental scents. I like to use the 5 spices, because in this recipe they will enhance the taste of the kebabs and the honey will just sweeten the meat, the ginger will bring this inimitable little taste, a little lemony.
Turkey kebabs recipe with 5 spices and honey for 4 people
Ingredients :
250 g turkey
3 teaspoons of olive oil
2 teaspoons of 4 spices
1 teaspoon of ginger powder or fresh and grated
½ zucchini
½ onion
Instructions
Cut your turkey into small 1cm squares.
Take a salad bowl and put the pieces of poultry with the ginger and the 5 spices. Add olive oil to the meat and spices.
Stir everything and let macerate for an hour.
Peel and cut the onion into 8 parts.
Cut the zucchini half into 1 cm rounds, then into 6 equal pieces.
Start your skewers with a piece of onion, then a piece of meat, a zucchini, and start again until all the ingredients are used up.
Preparation time: 20 minutes
Cooking time: 10 minutes
Number of people: 4
4 star rating: 1 review
What wine to drink with: turkey skewers with 5 spices and honey
My favorite wine for this Minervois rosé recipe Grape variety: Carrignan, Mourvèdre, Cinsault
Temperature between 8 ° and 10 °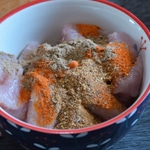 Slice the meat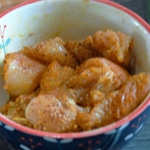 Add the spices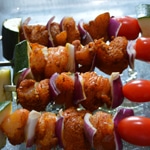 Assemble the skewers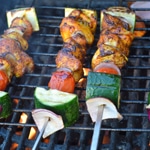 Cook on the grill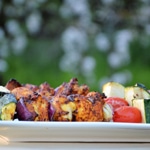 Zoom