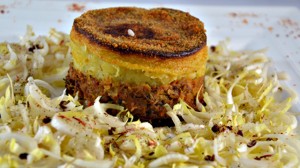 Recipe: Hachis Parmentier
Hachis Parmentier recipe with a pot au feu, it's already been a while since my daughter ordered this traditional dish from me. Minced Parmentier beef remains my favorite, I like it when the beef has been cooked in a pot, where it is flavored with the vegetables. But I especially like the resulting broth, so the Hachis Parmentier is a complete dish that is best consumed in winter.
Recipe ingredients
Hachis Parmentier recipe for 8 people:
650 g of meat
2 onions
2 shallots
2 cloves garlic
½ bunch of parsley
5 g of salt
1 g of pepper
15g butter
For the mash
100 g butter
10 cl of liquid cream
1.6 kg of potatoes
20 g + or – butter to brown
2 tablespoons of breadcrumbs.
Instructions
Cook the meat as in the Meat Broth recipe.
Remove the meat after 2 hours 30 minutes of cooking.
Leave to cool, then remove the bones from the pieces of meat.
Cook the potatoes in a large volume of salted water.
Peel the onions, shallots and garlic, then finely chop.
Brown the onion preparation with 15 g of butter.
Chop the meat with the onions.
Salt and pepper.
Butter a baking dish.
Place a generous layer of meat in the dish.
Pass the potatoes through a vegetable mill with the medium grill.
Add the cream and butter in small amounts.
Place the mash on the meat.
Smooth the mash.
Spread the breadcrumbs on the mash.
Place the knobs of butter on the mash.
Place in a hot oven at 200 ° under the grill at height for 45 minutes to 60 minutes.
Preparation time: 45 minutes
Cooking time: 35 to 60 minutes
Number of people: 8
4 star rating: 1 review
What wine to drink with: Hachis Parmentier
My favorite wine for this recipe: Beaujolais Juliénas Grape Gamay
Temperature between 13 ° and 14 °
Cook the meat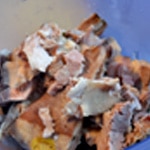 Boning the meat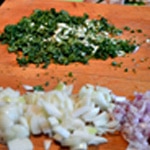 Parsley and onion shallot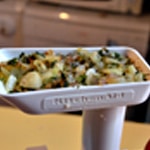 Chop them once grabbed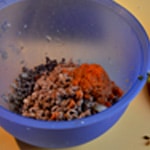 Chop the meat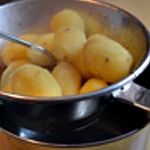 Bake the potatoes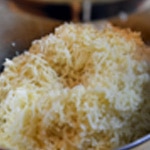 Press the potatoes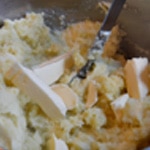 Add the butter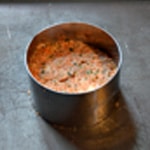 Mash then meat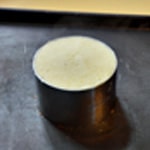 Puree then breadcrumbs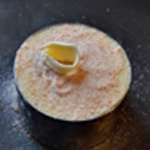 A knob of butter