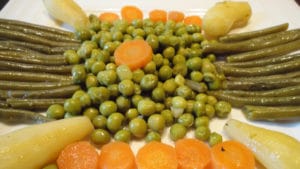 Vegetable gardener
Instructions
Vegetable gardener, garden recipe of fresh vegetables from the market cooked individually to respect cooking times. This morning, back from the market, the spring vegetables are on the stalls, here is a recipe for fresh vegetables that we tasted with a grilled lamb chop. Fresh vegetables just cooked, barely crisp, a tip top vegetable planter where the vegetables have kept their beautiful colors .
Vegetable planter recipe for 4 people:
Ingredients
1 kg of shelled peas, to have about 400 g of peas
400 g carrots
400 g green beans
12 small potatoes of the same size
1 sprig of thyme
1 sprig of savory
Instructions
Rinse the vegetables with plenty of water.
Snap off the ends of the beans and thin them out if necessary.
Peel the carrots, then slice them.
Peel the potatoes.
Cook the potatoes in plenty of salted water for 20 to 30 minutes.
Throw the green beans in a large volume of salted water with the sprig of thyme, cook between 8 and 12 minutes, keep them a little crunchy.
Sprinkle the beans once cooked in ice water, to fix the colors, then set aside.
Shell the peas and cook them in a large volume of boiling water for 12 to 16 minutes, with the branch of savory. Return all the vegetables to temperature.
Enjoy this natural spring dish with a nice grill.
Preparation time: 15 minutes
Cooking time: 12 to 16 minutes
Number of people: 4
4 star rating: 1 review
What wine to drink with a vegetable pot?
My favorite wine for this Cote de Provence rosé recipe Grape variety: Syrah, Grenache, Cinsault
Temperature between 08 and 10
Thanks to Léonie who is responsible for the decoration