Calamari curry
Summary : Squid curry recipe, my daughter will love it, she particularly likes curry and squid. I used frozen squid rings, they are often inexpensive financially and always present on the benches of fishmongers. It's also much faster to prepare, just rinse them thoroughly under the tap and they're ready to cook. We love calamari in all its forms, in the oven, in the casserole and even on the barbecue, only my son has a few reservations. Calamari with curry for a Saturday lunch, coming back from the market, if you cook them for 45 minutes they will never be rubber on the contrary overcooked they become soft and no longer have any interest.
Squid curry recipe for 2 people:
Ingredients
500 gr of squid ring
4 large mushrooms
125 gr of prawns
10 cl of liquid cream
10 cl of dry white wine
1 tablespoon of olive oil
1 teaspoon of curry
1 onion
Instructions
Rinse the squid under the tap, then wipe dry with food paper.
Brush the mushrooms, then cut into six.
Sear the mushrooms in olive oil, reserve the mushrooms as soon as they are well colored.
Peel then finely chop the onion, sear in the pan without letting it color.
Throw the calamari in the hot pan.
Add the curry and incorporate the spice well.
Pour in the wine and cream.
Salt and pepper.
Cover and cook for 45 minutes under a low heat.
Add mushrooms and shrimp 5 minutes before serving.
Preparation time: 10 minutes
Cooking time: 45 minutes
Number of people: 2
4 star rating: 1 review
What wine to drink with: Calamari curry
My favorite wine for this recipe: Beaujolais Blanc Grape Chardonnay
Temperature between 06 ° and 08 °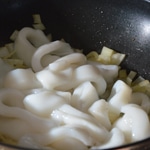 Sear the squids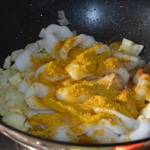 Add the curry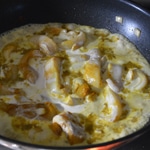 Cream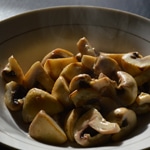 Sear the mushrooms
Zoom