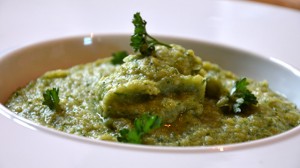 Recipe: Vegetable puree
Vegetable puree recipe, a little desire at home to eat vegetables, then nothing like a puree with seasonal vegetables. Just a little fresh butter before serving. This time in this dish, no particular need, but we were happy to eat rather light (up to you to play with the butter). Of course, gourmets can add fresh cream. Vegetable puree with a small grilled lamb chop.
Recipe ingredients
Vegetable puree recipe for 4 people:
200 g green beans
200 g of broccoli
500 g of potatoes
200 g zucchini
½ bunch of parsley
1 clove of garlic
½ nutmeg.
50 g butter
Salt and pepper
Instructions
Prepare the vegetables.
Place the potatoes, beans and broccoli in a large volume of salted water.
Cook gently for 22 minutes
Take out the broccoli after ten minutes.
Add the zucchini after 15 minutes.
Let all the vegetables cook.
Pass the vegetables through a colander, reserving the cooking juices. (Who could you use to cook rice)
Peel the garlic clove.
Rinse the parsley under the tap, then dry it with food paper.
Mix the parsley with the garlic clove.
Mash the cooked vegetables with the parsley.
Grate the nutmeg half.
Salt and pepper.
Mix the puree, adding a little cooking juice, or if nothing scares you, liquid cream.
Preparation time: 20 minute (s)
Cooking time: 22 minute (s)
Number of people: 4
4 star rating: 1 review
What wine to drink with: Vegetable puree
My favorite wine for this recipe: Lirac rosé Cépage Mourvèdre, Grenache noir, Syrah
Temperature between 08 ° and 10 °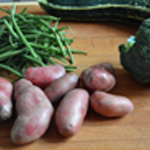 The vegetables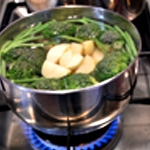 Cook the vegetables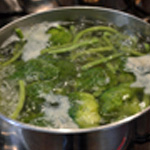 Soft fires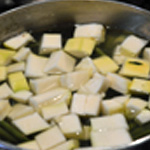 Add the zucchini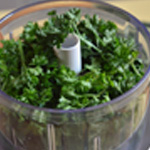 Mix the parsley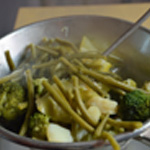 Grind the vegetables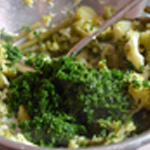 Add the parsley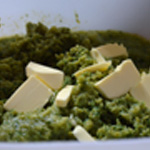 More or less butter