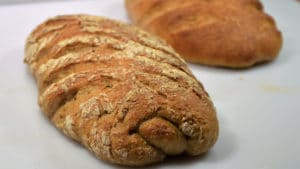 Wholemeal Bread Recipe
This is one of my favorite breads, plus it seems to be one of the best for the health, I particularly like the taste of its crumb and the flavor it gives off during cooking. It is a bread that does not go stale too quickly, good !! I admit that at home he does not have time to stale: I just eat it out of greed, a small slice in front of the TV. Wholemeal bread, this bread withstands freezing wonderfully, each time I make three at a time and freeze two. I never store it for long: they are eaten during the week and this allows me to change breads every 4 days. I love having lunch with this wholemeal bread, a nice toast with a little sweet or even salted butter, morning happiness, no need to run after fresh bread, especially with these cold weather in January.
Wholemeal bread recipe for: 3 breads
Ingredients :
500 g of type 150 flour
360 g of water at 20 °
100 gr of liquid sourdough
3 g fresh baker's yeast
10 g of salt
Instructions
Preheat the oven to 230 °.
Pour the flour, water, liquid sourdough, crumbled yeast and salt into the food processor.
Mix 4 minutes at low speed, then 6 minutes at high speed.
Flour the work surface.
Form a ball, place it on a lightly floured baking sheet.
Cover the dough with a damp cloth and let it rise for 1 hour.
Flour the work surface and divide the ball into 3 pieces of equal weight.
Give them a rounded shape by tucking the base inside.
Cover with a cloth and let stand for 15 minutes.
Gently flatten the dough pieces with the palm of your hand.
Fold the dough pieces a third and press with your fingertips.
Turn 180 ° and fold back the other part by pressing with your fingertips.
Fold the dough pieces in half lengthwise.
Roll under the hands to give it an oval and pot-bellied shape.
Place the dough pieces on a baking sheet, solder underneath.
Lamer the dough pieces.
Cover with a damp cloth and let rise for 1 hour 30 minutes.
Pour 5 cl of water in the bottom of the oven.
Bake in the lower part of the oven for 25 minutes.
Let cool out of the oven.
Preparation time: 60 minutes
Cooking time: 25 minutes
Number of people: 3 whole breads
4 star rating: 1 review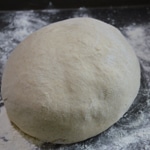 let it grow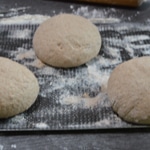 Divide into three loaves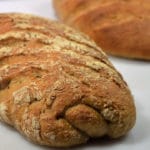 What wine to drink with: Wholemeal bread
The choice will be made with the main course.
Source: Le Larousse du pain by EricKayser