Recipe: Smoked trout puffs
Smoked trout puff pastry, ideal for an aperitif dinner, here a recipe that will appeal to smoked trout lovers, I like the delicacy of the flesh of the trout and I really love its smoky side. The trout are present in our streams in Franche Comté and in addition every year we have the right to a release of trout just before the opening. Some manage to escape predators and grow fat and reproduce for the happiness of all. The smoked trout puffs were devoured in minutes, nothing to do with the preparation time, but the main thing is guest satisfaction. We consume trout all year round, one day I will do an article on trout fishing, the one along our rivers where the fisherman hides, crawls and throws his fly to excite these voracious fish which if they are confident will pounce on this fly without giving it any chance, but the surprise will be for the trout.
Recipe ingredients
Smoked trout puff pastry recipe for 90 reductions:
750 g of fresh raw milk faisselle
1/2 teaspoon ground pepper
¼ teaspoon of fleur de sel
2 eggs
200 g smoked trout
6 teaspoons of white sesame seed
1 egg yolk
Instructions
Drain the faisselle.
Pour the faisselle in a salad bowl.
Season generously with salt and pepper.
Coarsely crush the pepper
Add the fleur de sel and crushed pepper.
Break the eggs into the preparation, mix.
Roll out the puff pastry, then cut the prints with a cookie cutter.
Brown the ends of the tarts with the egg yolk.
Pass the preparation in a pocket with a large non-notched nozzle.
Pour the cheese mixture into the puff pastry impressions.
Place a piece of smoked trout on the cheese.
Sprinkle with sesame seeds.
Place in a hot oven at 200 ° for 18 minutes.
Preparation time: 30 minutes
Cooking time: 18 minutes
Number of pieces: 90 reductions
5 star rating: 1 review
What wine to drink with: Smoked trout puffs
My favorite wine for this recipe: Arbois Savagnin grape savagnin
Temperature between 09 ° and 11 °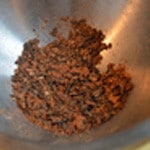 Loot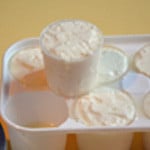 Drain the dishes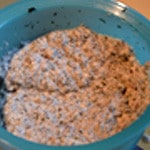 To mix together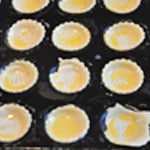 Brown with the yolk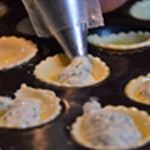 Fill with a pocket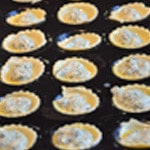 Add sesame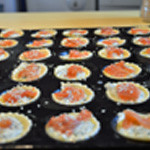 Lay the trout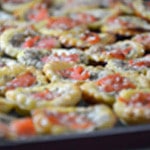 Zoom