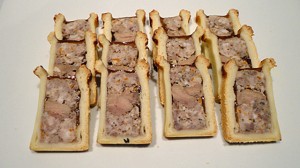 Recipe: Wild boar pâté and crusted guinea fowl
Recipe for wild boar pâté en croute, here I married it with guinea fowl, it's more end-of-year celebrations, I used mini pâté en croute molds, just for the aperitif. The homemade pâtés in crust always have a great effect for a dinner aperitif. I used guinea fowl thighs that my bite directly boned me, a little lazy the chef on this one. Pâté of wild boar and crusted guinea fowl, for the aperitif, I will serve it with a red with enough character.
Recipe ingredients
Recipe boar pâté in crust for: 1 mini mold of 30 cm
300 g of wild boar
100 g of guinea fowl
250 g of throat
3 sprigs of fresh thyme
1 carrot
3 shallots
37.5 cl dry white
350 g shortcrust pastry
11 g home cooking spicy salt
1 packet of jelly
Instructions
Trim the boar and cut it into large cubes.
Cut the throat into a large cube.
Cut the fillet of guinea fowl into strips
Peel the shallots and carrot.
Reserve the wild boar and throat in a salad bowl, then cover with white wine.
Add the sliced carrot and halved shallots.
Sprinkle with thyme.
Film the salad bowl and let stand in the refrigerator for 24 hours.
Mix the meat, then drain the marinade.
Weigh salt and pepper.
Chop meat with a medium grill.
Add 100 g of marinade while stirring
Roll out the shortcrust pastry.
Distribute the dough in the pie crust mold without piercing it.
Fold the dough over the edges of the mold.
Fill the mold with the stuffing.
Close with the lid, weld with a brush and water.
Pass an egg yolk over the shortcrust pastry.
make a fireplace on top of the pâté.
Bake in a hot oven at 180 ° for 45 minutes.
Let the pâté cool before unmolding.
Heat the water for the gelatin, follow the instructions on the package.
Let cool or cool the gelatin, then pour into the pâté en croute in several batches.
Number of people: 1 mini mold of 30 cm
Preparation time: 40 minute (s)
Cooking time: 45 minute (s)
Number of people: 1 mini mold
4 star rating: 1 review
What wine to drink with: Pâté of wild boar and crusted guinea fowl
My favorite wine for this Moulis en Médoc recipe. Grape variety: Cabernet Sauvignon; Merlot; Little Verdot
Temperature between 16 ° and 17 °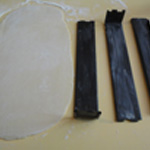 Cut the dough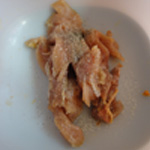 Cut the fillet into strips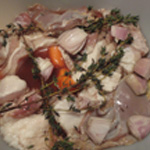 Marinate the meat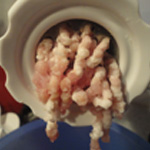 Chop the meat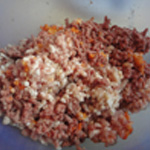 Mix the meats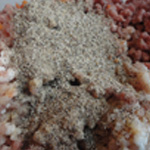 Salt and spices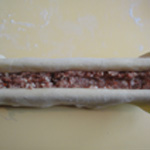 Fill the mold halfway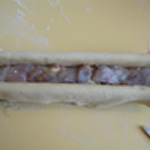 Add the fillets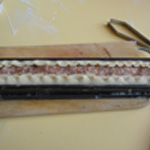 Finish with the stuffing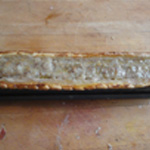 Cooked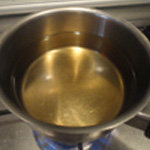 Melt the jelly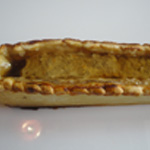 Zoom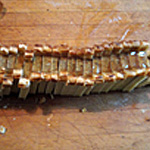 Slice the pâté<img src="/wp-content/uploads/2021/09/7988263147511848140.jpg" class="aligncenter"