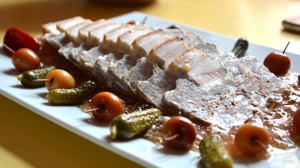 Recipe: Wild boar pâté
Recipe for wild boar pâté, Philippe was making room in his freezer, like most hunters with the opening of the hunt. I am not a hunter and not even at all, on the other hand I love game in sauce, terrine, barbecue, and luckily I have some friends who are hunters and fishermen, who provide me in exchange for some terrines. I got a pheasant, but it will be for another recipe. I also have a leg of venison to see later. Normally the mushroom season shouldn't be very far away …
Recipe ingredients
Wild boar recipe for 4 terrines:
1 leg of wild boar, about 2 kg of meat
1,500kg of pork throat
500g of fresh breast
2 carrots
2 bunches of thyme
2 cloves garlic
1 small onion
16 gr of salt per kilo of meat
3 gr of pepper per kilo of meat
Jelly
Crépinette (optional)
1 bottle of Beaune rouge
Instructions
Bone the leg.
Denote the boar and cut it into small pieces.
Cut the pork throat into cubes.
Cut the fresh breast into 4 slices.
Peel and cut the carrots into slices.
Peel the onion and cut it into quarters.
Peel the garlic cloves.
In a large salad bowl, arrange the pieces of wild boar and throat.
Add the vegetables.
Cover with full-bodied red wine, all the flesh should be covered.
Film with cling film and place in the refrigerator for 24 hours or better 48 hours.
Weigh the meat.
In a large salad bowl, chop the wild boar and throat as well as all the vegetables in the marinade.
Mix by hand, salt and pepper.
Respecting the salt and pepper dosages is really important for the balance of your terrine.
Add the juice from the marinade.
Place your strainer at the bottom of the earthenware terrines, taking care to cut just before the top of the terrine.
Place the stuffing at the bottom of the terrine without tamping too much.
Cover with the sliced bacon.
Bake in a cold oven at the start, in a bain-marie for 1h30 at 180 °, without cover.
Once cooked, collect the juice from the terrine, leave to cool in the refrigerator.
The next day remove the white fat, then heat the jelly and pour it into the terrine.
Preparation time: 40 minute (s)
Cooking time: 120 minute (s)
Number of people: 4 beautiful terrines
4 star rating: 1 review
I accompanied my wild boar pâté with pickled cherries.
What wine to drink with: Pâté au sanglier
My favorite wine for this recipe: Beaune Grape Pinot Noir
Temperature between 16 ° and 17 °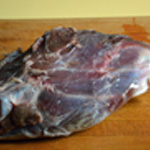 Wild boar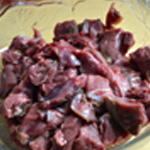 Boneless meat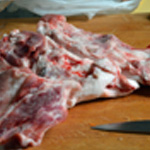 pork loin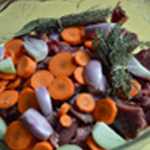 Marinaded vegetables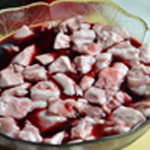 Leave to marinate for at least 24 hours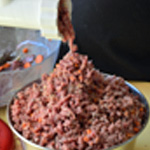 Chop the meat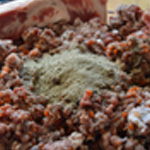 Spice and salt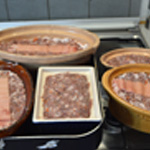 Ready-to-cook terrine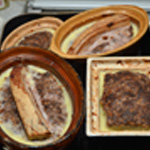 Cooked terrines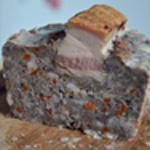 Zoom<img src="/wp-content/uploads/2021/09/6935841693468012691.jpg" class="aligncenter"