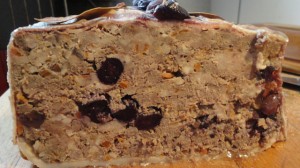 Recipe: Wild boar terrine with blueberries
Wild boar terrine recipe. This is summer, the freezers must be emptied. I used fresh blueberries for my wild boar terrine recipe, they are coming to the markets and I love this fruit. Baked wild boar terrine a long and gentle cooking so that the wild boar terrine remains soft. I have coated my earthenware terrine with smoked bacon bard, they will delicately perfume my wild boar terrine.
Recipe ingredients
Recipe Wild boar terrine with blueberries for 10 people
1 kg of wild boar
200 gr of throat
500 gr of pork loin
200 gr of frozen blueberries
2 large onions
2 carrots
1 clove of garlic
4 shallots
300 gr thinly sliced smoked bacon
27.20 gr of fine salt (i.e. 16 gr per kg)
4 gr of gray pepper
3 tablespoons of armagnac
1 bottle of Cahors wine
1 teaspoon of cardamom
1 clove
Instructions
Peel and slice the carrots.
Peel the onions and cut them into quarters.
Peel the garlic clove.
Bone the wild boar and cut it into small cubes.
Denote and degrease the pork loin.
In a large bowl, store the meat cut into pieces, add the vegetables.
Cover with Cahors red wine.
Shoot with stretch wrap and refrigerate for 24 hours or better 48 hours.
In a large salad bowl, chop your meat and throat as well as all the vegetables in the marinade.
Mix by hand, salt and pepper.
Add the frozen blueberries, mix to distribute the fruits evenly.
Respect the dosages of salt and pepper, it is really important for the balance of your terrine.
Line the side of your terrine with the smoked bacon, letting a little overflow to cover the top. Cover the bottom of the terrine.
Fill your terrine by tamping.
Once your terrine is well loaded, press with your fist. Close with the bacon bards.
Bake in a cold oven at the start, in a bain-marie for 1h30 at 150 °.
Wild boar terrine marinated for a few days in a salted Cahors sweetened with blueberries, enhanced with armagnac. Roasted in the oven a real delight.
Preparation time: 40 minutes
Cooking time: 2 hours 15 minutes
Number of people: 10
4 star rating: 1 review
What wine to drink with: Wild boar terrine with blueberries
My favorite wine for this recipe is a Beaune Grape: Pinot noir
Ideal wine temperature between ° 16 and 17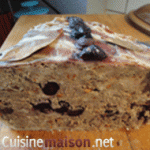 Presentation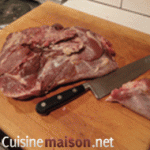 Cut the meat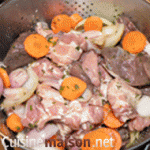 Marinate 1 night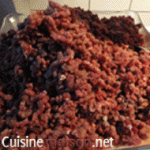 Chop the boar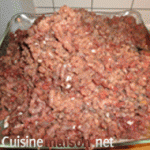 Chop the pork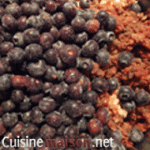 Add the blueberries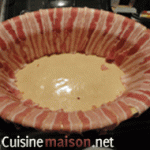 line with strips of bacon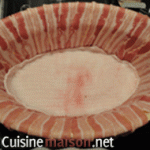 Cover the bottom of the terrine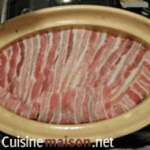 Close the top of the terrine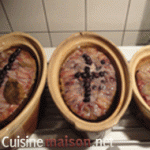 Terrinne cooked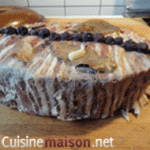 Unmoulded terrine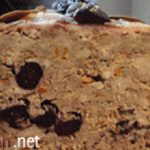 Terrine and blueberries<img src="/wp-content/uploads/2021/09/7623068416101707922.jpg" class="aligncenter"