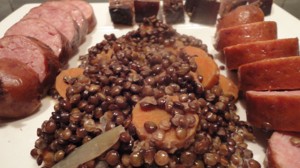 Recipe: Lentil sausage
Lentil sausage recipe, for an autumn meal with this greyness this dish is welcome. I like to cook green lentils with winter approaching it becomes a seasonal dish. Morteau sausages with Franche Comté charcuterie lentils and Puys lentils, made in France products, we loved it. Green lentils from Puys en Velay in the heart of the Haute Loire, cultivated for over 2,000 years, this local product lends itself to many recipes including my recipe for sausages with lentils.
Recipe ingredients
Lentil sausage recipe for 6 people:
2 Morteau sausages
400 gr of smoked bacon
300 gr of Le Puy green lentils
400 gr carrots
2 large onions
2 shallots
2 cloves
3 juniper berries
2 bay leaves
35 cl of white wine
3 cloves of garlic
Instructions
Peel the carrots, then cut them into slices.
Peel the onions and cut them into quarters.
Peel the shallots and cut them in half.
Peel the garlic then cut it in half.
Rinse the green lentils under the tap in a colander.
Blanch the bacon in a large broth of water.
Pour in the white wine.
Add the onions stuck with the two cloves, shallots, garlic and carrots.
Add the two bay leaves and the juniper berries.
Simmer for 10 minutes.
Add the green lentils and cook gently for 40 minutes.
Add the Morteau sausages and simmer for another 20 minutes.
Pass the lentils through a colander.
Add the butter just before serving.
Preparation time: 10 minutes
Cooking time: 10 minutes
Number of people: 6
4 star rating: 1 review
What wine to drink with Lentil Sausage:
My favorite wine for this recipe: Arbois Pupillin Grape variety: Trousseau; Poulsard; Pinot Noir
Temperature between 15 ° and 16 °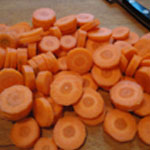 Slice the carrots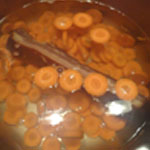 Blanch the bacon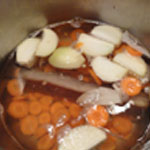 Add the onions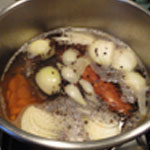 Let it simmer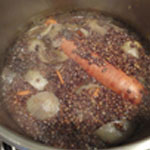 Add the sausages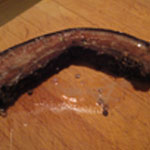 Cooked bacon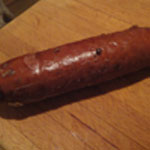 Cooked sausage
Zoom