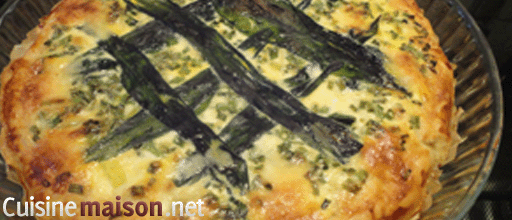 Wild garlic and crab pie recipe
Crab tart with wild garlic, baking in the oven for an easy recipe, a way of thanking Mother Nature who is very generous with wild garlic, abundant in our forests. . Crab quiche for the evening meal, we tasted it with a green salad. The wild garlic season gives pride of place to this recipe, it is a fairly short period, indeed it is imperative to harvest the wild garlic before the flower blooms. Wild garlic from the forests to decorate this recipe for wild garlic crab pie, we collect it for free in our forests. Wild garlic known for its health properties.
Wild garlic and crab pie recipe For 8 people:
Ingredients :
1 roll of puff pastry
70 g wild garlic pesto
3 leek whites
1 tablespoon of olive oil
1 tablespoon of flour
1 tablespoon of cornstarch
10 cl of milk
20 cl of fluid cream
2 chicken shallots
3 tablespoons finely chopped parsley
250 cl of liquid cream
1 bunch of chives
3 eggs and 1 yolk
350 g of canned crab.
1 teaspoon ground cumin
3 tablespoons of parmesan
Instructions
Wash the leeks, then cut them into thin slices.
Peel and mince the shallots.
Wash and chop the chives.
Wash the wild garlic leaves in clean water.
Sweat the leeks and shallots in a pan with olive oil, let melt gently.
Blanch the wild garlic leaves for one minute.
Mix the flour with the cornstarch then the eggs and egg yolk, add the milk then the cream, beat everything well.
Add the chives and leek reduction, then the Parmesan.
Arrange the puff pastry on a baking sheet lined with food paper, prick the dough with a fork.
Pour your appliance into your pie.
Store the wild garlic leaves for decoration.
Bake in a hot oven, at the bottom of your oven, for 45 minutes at 180 °
Preparation time: 30 minutes
Cooking time: 45 minutes
Number of people: 8
4 star rating: 1 review
What wine to drink with: Wild garlic and crab pie:
My favorite wine for this recipe: Alsace Riesling, Grape variety: Riesling
Temperature: between 8 ° and 10 °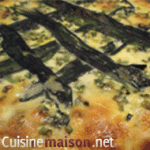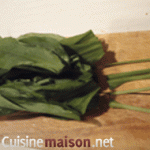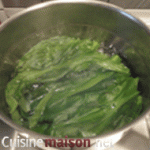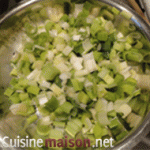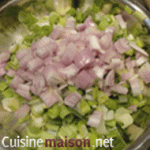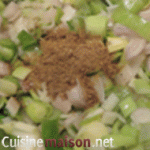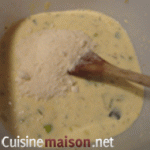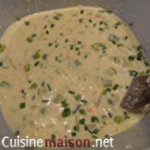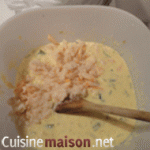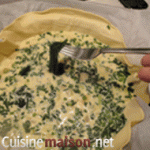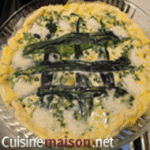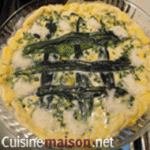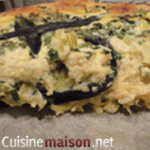 <img src="/wp-content/uploads/2021/09/5198348429274908403.gif" class="aligncenter"