A great discovery for the month of November 2018, theRestaurant L'Oz in Saint Cyr Montmalin in the Jura
Today I'm going to tell you a story that took place at the end of last November. First of all, I want to tell you that this article is not an advertisement, but just a need to share the pleasures that we had this Saturday in question.
It all started with a free outing from the Pont d'Héry rehabilitation center, where I did a four-week internship. This Saturday, Florence is coming to spend a short day in the Jura. Very quickly, we stopped activities more related to the Cuisine site, one or two cellars to visit, which is the least of things since we are in the heart of Arbois. The sun is almost absent, as well as the yellow vests announced in the major crossroads.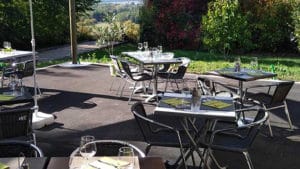 So we leave with the hunger that grips us, to visit Joseph's cellar. After the usual presentations, we realize that Florence and her family are known to this vintage distiller. We therefore have all the honors for a tasting of its entire organic wine cellar. For the record, it will even take us out from the bottom of these bundles, a bottle of quince drop, which we hastened to taste … It is with a little nostalgia that we are heading this time towards the restaurant, with a lot of of hope and gluttony.
Immediately upon our arrival, we are struck by what this little house with its low roof gives off, a kind of serenity. Florence will read the map which is displayed outside. I know for myself that she will love the establishment, already outside we feel that it is class without overdoing it, just what is needed.
As it is specified in the uses and customs, it is I who will cross the door first. As soon as the door opens, a small bell rings and warns the tenants of our arrival. I am immediately under the spell of this small room decorated with warmth and sobriety. Impossible not to tell you about the young woman behind the bar, with her short hair that could make her look a little austere, but she is not, she looks you straight in the eye and smiles at you, in order to welcome you as well as possible. This time I'm falling for it, I really like this atmosphere where before tasting, we are already well and happy to be there.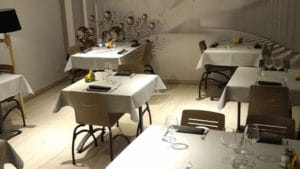 This time, we will not take an aperitif. Just a glass of Savagnin, which should go very well with my meal. I will only tell you about my menu, since Florence chose the € 31 menu. Here is what she chose: Amuse-bouches; Pan-fried foie gras escalope, fresh apricot fougasses and smoked salt petals; Pan-fried hake fillet, mussel cream and its cylinder of vegetables; Brown and blackcurrant half-sphere on its speculos biscuit. It will be up to him to make a comment.
Now it's my turn, it's time anyway, my menu at 19 € We start with.
A little lollipop on a stick.
A grated Comté, then baked with a few seeds, it was original.
A flavored risotto emulsion with shellfish
I liked it a lot, just a little frustrated by the quantity, which did not allow me enough to discover everything about this beautiful appetizer. It starts off very strongly.
Butternut squash velouté, curry cream
I start with the velvety, immediately my palate likes the texture of this royal soup, it is fragrant and glides with pleasure. I arrive slowly towards the cream which has the color of fire, I like the curry, I enjoy this cream.
Rabbit ham stuffed with mushroom duxelles and a cylinder of vegetables
I like it a lot, from the arrival of the plate of these rabbit ham, from my first stroke of the fork, immediately I feel that the cooking is firm and just as it should (we do not laugh in the kitchen). I like this piece in the mouth, the meat is cooked, deliciously flavored, I sauce it with a small piece of bread, and there, it's an explosion of flavors. You can feel all the patience and love of this chef whom I do not know. Barely sweet, surely deglazed with a fruity alcohol, I really like it. Of course, the garnish was also very interesting, but this rabbit leaves on the buttocks (not to repeat a saying which would have nothing to do in this beautiful establishment).
Revisited pear tartlet and cinnamon whipped cream
Now it's the chef who is under pressure, because I await my dessert with a lot of hope and the desire to be surprised. Again, at the first stroke of the spoon, the shortbread cracks and I can reach the hidden pears and, surprise, they are in small cubes, cooked but crunchy, slightly sweetened by the cooking of a syrup, I like it a lot. these flavors that appeal to me, and this shortbread that disintegrates under the tooth. It's sublime, once again, I want more.
Here, I wanted to thank Sarah and Florian for this beautiful lunch. I wanted to write this article to open a new tab on the great moments, and this tasting was one, see you very soon. If you are passing a few km, do not hesitate a second, this establishment and its staff are worth a visit. In addition, book because it will be very difficult to arrive like a flower with a gun.
Restaurant l'Oz
1 street of the fountain
39600 Saint-Cyr-Montmalin
Phone: 03 84 37 29 67
 </p