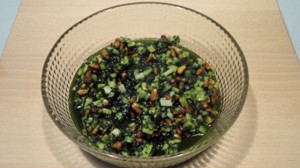 Recipe: Wild garlic and pine nuts pesto
Recipe Wild garlic and pine nuts pesto, I love the green of this pesto and the pairing with Parmesan. Wild garlic is abundant in our forests, it is maturing and perfumes our forests. It is said that the bears when they came out of hibernation feasted on wild garlic or wild garlic, in a long time ago that bears are no longer found in the woods, but the wild garlic is always present and comes to delight us with the arrival of spring.
Recipe ingredients
Recipe for 4 people: Wild garlic and pine nuts pesto
4 tablespoons of wild garlic pesto
60 g of parmesan in pieces
30 g pine nuts
Instructions
Place the pine nuts in the oven at 200 ° for 3 minutes.
Cut the Parmesan into strips and then into small cubes.
Add the wild garlic pesto to a bowl.
Pour in the toasted pine nuts.
Add the Parmesan.
Pour in a tablespoon of olive oil.
Salt and pepper.
Stir the ingredients.
Leave for 1 hour at room temperature before serving.
Preparation time: 25 minutes
Cooking time: 0 minutes
Number of people: 4
4 star rating: 1 review
What wine to drink with: Wild garlic and pine nuts pesto
My favorite wine for this recipe: Cahors Cépage Cot noir, Merlot; Tannat
Temperature between 14 ° and 16 °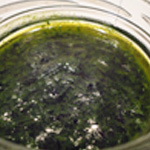 Wild garlic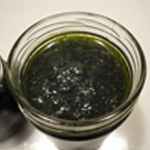 Take out the pesto for an hour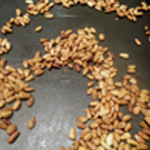 Grill the pine nuts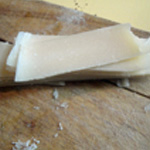 Cut the parmesan into strips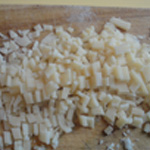 Then in cubes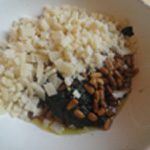 Add the pine nuts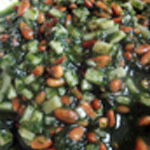 To mix together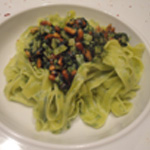 Tagliatelle and pesto