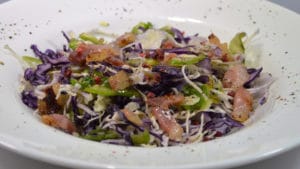 Red Cabbage Salad Recipe
Another salad, yes during this season we eat it every day, I loved this slightly crispy salad where the breast has divinely scented the cabbage. The pepper brings its fresh side and a beautiful green color as beautiful as it is good, why complicate when you can do it simply, all well spiced up. Red cabbage salad, for color and add a little white cabbage, just for fun. Summer vegetables are varied and abundant, play with colors and flavors to delight yourself with these super healthy products.
Red cabbage salad recipe for people: 4
Ingredients
¼ white cabbage
½ red cabbage
½ green pepper
200 g of smoked and skinned pork belly
Instructions
Thinly slice the cabbage and green pepper, removing the chunks.
Thinly slice the fennel after cutting it in half.
Strip the smoked brisket, or have it done by your butcher.
Cut the smoked bacon into small bacon.
Dry heat a pan and sear the bacon under a low heat for about 12 minutes.
Sear the thinly sliced fennel in the butter for 4 minutes.
Prepare the plate by playing on the colors.
Drizzle with a drizzle of olive oil and apple cider vinegar.
Season generously with salt and pepper.
Preparation time: 20 minutes
Cooking time: 16 minutes
Number of people: 4
4 star rating: 1 review
What wine to drink with: Red cabbage salad
My favorite wine for this recipe: Rully blanc Cépage Chardonnay
Temperature between 08 ° and 10 °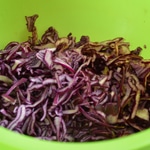 Slice the red cabbage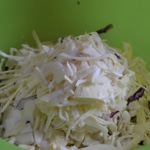 Slice the white cabbage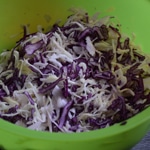 Mix the cabbages
Slice the breast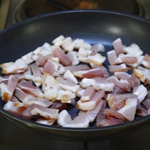 Grab the chest