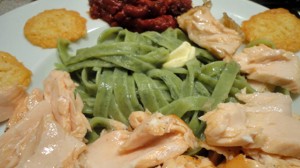 Recipe: Wild garlic salmon tagliatelle
Salmon tagliatelle recipe Wild garlic and salmon tagliatelle. A recipe for salmon tagliatelle, wild garlic scented tagliatelle and I baked the salmon in the oven. Tagliatelle with fresh salmon, a recipe that is very popular. Salmon pate recipe for dinner in the evening, we tasted it accompanied by a small fresh rosé. Cook the fresh salmon directly in the oven, you salt and pepper it, 12 to 15 minutes in the oven and it's done. Be careful when cooking tagliatelle, fresh they cook in a few minutes 4 or 5 minutes. Recipe for tagliatelle with fresh salmon, an easy recipe to make, I accompanied it with some parmesan cheese and a homemade tomato paste.
Recipe ingredients
Salmon tagliatelle recipe with wild garlic for 4 people:
320 g of fresh pasta
300g wild garlic pesto
400 gr of salmon steak
80 g of parmesan powder
200 g of homemade tomato paste.
Salt and pepper
Instructions
Mix the fresh pate with the wild garlic pesto.
Roll your dough for tagliatelle.
Let the tagliatelle dry for half a day.
Heat a large volume of salted boiling water.
Make small piles of parmesan powder on cling film.
Place in a hot oven at 180 ° for 3 minutes.
Place your salmon steaks cut into small cubes in an oiled dish.
Bake in the oven for 12 minutes.
Cook the tagliatelle for 4 to 5 minutes in the large volume of boiling water.
Drain the tagliatelle as soon as they are cooked and keep warm.
Heat the plates and the homemade tomato paste.
Place the tagliatelle on the plates.
Add a little concentrate to the plate.
Peel off the Parmesan tiles and arrange them on the plate around the tagliatelle.
Take the salmon out of the oven and distribute over the wild garlic tagliatelle.
Preparation time: 45 minutes if you make your pasta fresh
Cooking time: 4 to 5 minutes
Number of people: 4
5 star rating: 1 review
What wine to drink with salmon tagliatelle with wild garlic?
My favorite wine for this Rosé d'Anjou Grape variety: Cabernet Franc and Cabernet Sauvignon
Temperature between 11 ° and 12 °
Wild garlic pesto